UK court action over Congolese 'illegal minerals'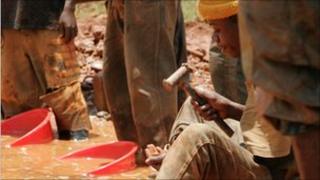 Legal action has been launched against the UK for allegedly failing to refer firms trading in "conflict minerals" from DR Congo for UN sanctions.
Campaign group Global Witness has gone to the High Court for a judicial review, saying the UK government is breaching its legal obligations.
There are global efforts to halt the trade in minerals from areas controlled by armed rebels in the African state.
The Foreign Office said it expected UK companies to operate "due diligence".
Rebels control minerals such as tin, gold, and coltan in the country, where five million people died in a 1996-2003 civil war and its aftermath.
UN resolutions introduced in 2008 and 2009 called for a travel ban and asset-freeze to be imposed on companies supporting the illegal trade.
'Refused to act'
Global Witness says it and the UN Group of Experts has "extensive evidence" that UK companies have supported armed groups by purchasing minerals from areas under their control.
Gavin Hayman, campaigns director at Global Witness, said: "Armed groups controlling the trade in minerals like tin and tungsten use the money to buy guns and fund their violent campaign against civilians.
"The UN resolutions recognised that companies sourcing directly or indirectly from the region are part of the problem.
"But in spite of our frequent appeals, the UK government has steadfastly refused to act, which left us no choice but to take them to court."
The Foreign Office said it would not comment in detail on the case.
"The UK government expects all British companies operating in the minerals sector in the Democratic Republic of Congo to follow high standards of due diligence, and to make every effort to establish the route through which the minerals they buy have passed," a spokeswoman said.
"We will continue to take reports that they are not doing so seriously, and will assess in each case whether there are grounds to consider recommending to UN partners that sanctions measures be imposed or supporting proposals for listings made by other states.
"Bringing DRC's natural resources more fully under state control is a key theme of our work in the country. We support a number of projects to establish better management of the country's minerals, and are looking to deepen our involvement in this area."