'Serious failings' in UK visa controls for Pakistanis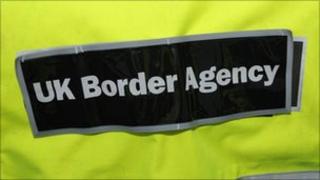 Immigration controls for people from Pakistan who wish to settle in the UK have failed to protect British borders, an independent report has said.
The UK Border Agency's independent chief inspector said a "significant number" of visa applications were not being "decided correctly".
John Vine said in the "worst cases", visas that should have been refused were granted, and vice versa.
The immigration minister said the agency had "already taken action".
'Serious failings'
Mr Vine's report said inspectors studied a sample of 100 cases of visa applications from Pakistani nationals.
Of the 49 granted entry to the UK, the study said there were six cases between November 2009 and January of this year where visas were granted when they should have been refused.
In one example, it said the accompanying employment reference letter included spelling errors, while bank statements showed large, unexplained cash deposits.
The six cases in question have now been handed to enforcement officers.
The report said such cases indicated "serious organisational failings" in the visa section of the UK Border Agency (UKBA), and "a lack of rigorous scrutiny being applied to those who wished to settle in the UK".
'Inconsistencies'
People from Pakistan represent the third largest source of applications to enter the UK.
The visa system initially allows individuals to stay and work in the UK for two years. Those who pass this stage then have the option to apply to stay permanently.
Mr Vine described it as the poorest performance in a UKBA business area to date and criticised the visa section's inconsistent decision making.
"In some cases we found it almost impossible to determine why visas had been issued, when others had been refused on identical or very similar evidence," said Mr Vine.
He said efforts now had to be made to improve standards because it was currently "neither efficient nor effective".
Visa application procedures for Pakistani nationals were moved from Pakistan in 2008 to Abu Dhabi and Croydon in south London.
"The picture that emerged from my inspection was of a visa section that lacked any strategic direction, leadership or effective communication between each key location," added Mr Vine.
'Significant changes'
Immigration minister Damian Green said he was "very concerned" by the report's findings but added that the UKBA had "quite rightly already taken action".
"This report covers a period when the agency had to make significant changes to the Pakistan visa operations due to the bombing of the Marriott Hotel and the deteriorating security situation in the country," he said.
"I am determined to drive up standards and ensure that UK border controls are robust.
"This government is committed to getting our immigration system under control and has already taken action to deliver a reduction in net migration from the hundreds of thousands to the tens of thousands."
In a separate report, Mr Vine also criticised the UKBA's removal of families who have no right to remain in the UK.
He found there was "limited evidence that an individual action plan existed for each family which took account of the family's welfare needs and arrangements for them to return home".
There were "no consistent standards" for promoting the option of voluntary return, he added.