Four historical sites share £10.5m restoration funding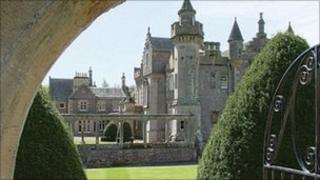 The home of writer Sir Walter Scott and a landscape charting more than 300 years of gardening history are to get a share of more than £10.5m funding for restoration work, it has been revealed.
The Heritage Lottery Fund (HLF) said a Tudor house in Devon and a Grade II listed building in South Wales would also get a slice of the funding.
Abbotsford, Sir Walter's home in the Scottish Borders, will receive £4.8m.
The house's contents include Rob Roy's sporran and Napoleon's pen case.
The restoration will include a new visitors' centre, a learning area and self-catering accommodation to provide additional income to the property.
In South Wales, Newbridge Memorial Hall, in Caerphilly - a finalist in the BBC2's Restoration programme - will receive £2.9m so it can be restored as a heritage centre where people can learn about the Valleys.
'Tremendously varied'
Known as the "Memo", the Grade II listed building was created as a memorial to those who died in WWI and houses the largest ballroom in South Wales as well as an Art Deco auditorium.
The third project, Tudor house The Walronds, in Cullompton, Devon, is to receive funding of £1.7m.
Its ground floor and gardens will be made available for community use, and the upper floors will be converted into holiday accommodation.
The building, a rare example of an intact early town house dating from the 1600s, will also be used for an education programme, while the kitchen will host a catering scheme for students with learning disabilities.
The fourth recipient, Wrest Park, in Silsoe, Bedfordshire, will be given £1.14m to restore a landscape on a par with Stowe and Stourhead.
Funding will restore the upper gardens and path network, provide better visitor facilities, improve exhibitions and deliver on-the-job training for eight novice gardeners.
Carole Souter, chief executive of the HLF, said the four projects were "tremendously varied".
"What's exciting about these four projects is not just that they are all in wonderful places of historic importance, but that they will make a significant contribution to their local economies and to the quality of life of their local communities.
"Heritage can play an important role in economic recovery and we are anticipating an increased share of Lottery income from next year.
"We know how welcome this investment will be during the tough times ahead," she said.
The Heritage Lottery Fund also gave initial backing to a further four projects, which received a total of £126,900 to develop their plans.
The four schemes are the National Memorial Arboretum, in Staffordshire, the 13th Century Black Gate, in Newcastle, St Mary at the Quay, Ipswich, and the National Trust's Croome Court, Severn Stoke, Worcestershire.