Newspaper review: Focus on leaked US military files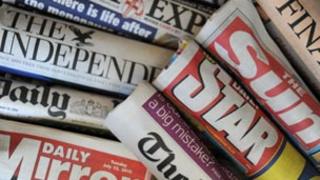 The impact of the leaked US military files on the Afghan war and BP's record loss feature in many of the papers.
The Times says the leaked documents contained no great revelation that was previously outside the public domain.
What has changed, the Independent says, is that we have documentary evidence of the dark side of the Afghan conflict.
The Sun thinks the revelations will undermine the morale of front-line troops who are prepared to give their lives for freedom.
BP's 'exile'
The Daily Telegraph says it is vital allies are not distracted as they near the end game of this painful conflict.
While the Guardian focuses on what it calls further evidence of attempts by coalition commanders to cover up civilian casualties.
Many papers report BP's Tony Hayward has been offered a non-executive position at its Russian joint venture.
The Daily Mail says he is being "exiled" to Russia's wasteland, while the Sun prefers "banished".
Policing overhaul
There is also widespread interest in the government's proposals for the shake-up of policing.
The Daily Mail thinks elected commissioners are an imaginative way to make police more responsive to the public's wishes.
The Daily Telegraph says senior officers hate the idea.
Meanwhile the Financial Times wonders whether the commissioners will be ex-police officers, determined the police should be run their way, or local politicians who can spot where real power may be.
Counterfeit coins
The Daily Telegraph says fake one pound coins are becoming more difficult to spot.
It reports new figures, published in a Parliamentary answer, indicate that one in every 36 pound coins in circulation is a fake - which is a record number.
According to the paper, the biggest losers are small shopkeepers, who are not given refunds by banks for counterfeit coins from their till.
People usually only realise they have a fake when it is rejected by a parking meter or vending machine, it says.