Working between 1945 and 1965?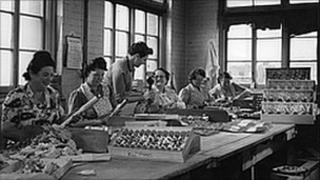 Kirsty Young is presenting a new series called The British at Work. The first episode is looking at the post-war years from 1945 to 1965.
We would like to hear from men and women who have got stories to tell about those years and the following issues: health and safety in the workplace and accidents at work, the nationalisation of big industries like the coal mines and how it changed workers' lives, the rise of the advertising industry, romance at work, the end of the marriage bar and the influx of women into the workplace and men's attitudes to the latter.
Did you go on work trips to the seaside and have employers who laid on extras for their workers like houses, leisure facilities and days out?
Were you a manager struggling to get results from your workers between 1945 to 1965?
Were you a part of the union or a shop steward? Or an employer who had to deal with unions?
Were you an immigrant in Britain who struggled or thrived in the workplace?