Gurkhas renew battle over British army pensions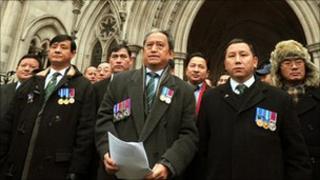 Retired Gurkhas have taken their battle with the Ministry of Defence over their army pensions to the Court of Appeal.
The British Gurkha Welfare Society is challenging a decision to limit the pensions paid to those who left the service before 1997.
Earlier this year it lost a test case, which would have affected about 25,000 veterans, at the High Court.
The Ministry of Defence said the pension cut-off date was "justified and proportionate".
Changes to pension rules in 2007 gave serving Gurkha soldiers equal pension rights with other service personnel in the UK.
But the British Gurkha Welfare Society said about 25,000 men who had retired before 1 July 1997 were denied the opportunity to transfer into UK armed forces pension schemes.
It says the government is acting unlawfully in paying them a third of the income of UK-based soldiers.
'Obvious disadvantage'
Gurkhas, who are recruited from Nepal, have been part of the British army for almost 200 years.
Last year, all retired Gurkhas won the right to live in the UK, following a high-profile campaign championed by actress Joanna Lumley.
Declan O'Dempsey, representing the Gurkhas, told the court the veterans had made the same sacrifices as UK soldiers and should have pension equality.
"The effect of the cut-off date is very serious in that it creates a group of Gurkhas who are placed at an obvious and substantial disadvantage.
"It is one of real practical significance which impacts upon their standard of living, opportunity to exercise their rights of residence in the UK and the lifestyle, welfare and educational opportunities for themselves and their families."
An MoD spokesman said: "Over the course of a retirement, these Gurkha soldiers will receive at least the same amount of pension as their British counterparts.
"Gurkha pensions can be paid from the age of 33, up to 27 years before British pensions begin. That means a Gurkha rifleman will already have received approximately £60,000 by the time he is 60."
The spokesman said Gurkhas who retired before July 1 1997, having served for at least 15 years, received a pension under the Gurkha Pension Scheme.
"The GPS pension rate is regularly reviewed and increased in accordance with annual inflation in Nepal and allows for a comfortable life in Nepal. A rifleman's pension is equivalent to a GP or architect's salary in Nepal."
A judgement has been reserved in the case.