Prisoners' phone calls 'not monitored properly'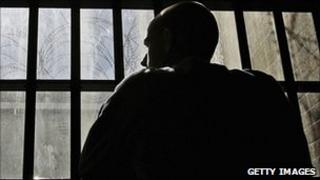 Children are being put at risk because sex offenders' telephone calls from prison are not being monitored properly, inspectors have warned.
Interception of Communications Commissioner Sir Paul Kennedy said equipment and resources were lacking.
He found "very serious" failings in 24 of the 88 jails in England and Wales - with another 19 only "a little better".
The Ministry of Justice said it had made several improvements since the inspections last year.
Harassment
Sir Paul said there were systematic failings in monitoring communications despite a large number of inmates posing a risk to children, members of the public, and prison staff.
In one jail alone, 476 prisoners were considered to be in need of monitoring.
In his annual report, Sir Paul revealed that four prisons had to be visited twice because of "very serious failings".
He said: "Often these failings result from a lack of equipment and resources to conduct the interception efficiently and effectively, especially when large numbers of prisoners need to be monitored because they are considered a risk to children or are subject to harassment proceedings."
But he said failings could also arise from a lack of "clear leadership, direction and supervision" of staff.
"Managers have been warned that they could then find themselves in an indefensible position," he said.
Inspectors found a number of category B prisons had a "very limited capacity to monitor prisoners who pose a real threat to good order and security".
The interception of mail and telephone calls in prisons is not only permitted, but mandatory in some cases.
This usually applies to Category A prisoners, particularly those convicted of sexual or harassment offences that continue to present a risk to the public.
Sir Paul's report also revealed almost 1,500 mobile phones and 800 Sim cards were confiscated from 25 prisons last year.
"The availability of such a large number of illicit telephones in the prison system is a serious cause for concern because prisoners can also use them to access the internet," Sir Paul said.
The Ministry of Justice said improvements had been made since the inspections, including placing greater emphasis on meeting recommendations, identifying problems and sharing good practice.
A spokesman said its National Offender Management Service would continue to work closely with the interception commissioner to "improve performance" and "drive up standards".