Ex-Bosnian leader Ejup Ganic's UK extradition blocked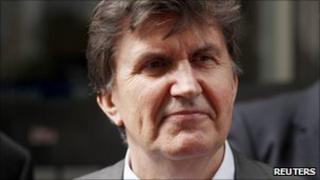 The extradition from the UK of a former Bosnian leader wanted for alleged war crimes in Serbia has been blocked.
Former acting president Ejup Ganic, 64, was wanted for prosecution over alleged atrocities he denies committing in Sarajevo in 1992.
A judge sitting in London blocked the bid, saying there was evidence his trial could be "politically motivated".
A spokesman for the Serbian War Crimes Prosecutor's Office said an appeal would be launched against the decision.
'Abuse of process'
Lawyers say Dr Ganic ordered attacks on a medical convoy and the execution of surrendered soldiers at the start of the Bosnian war - both of which are illegal under the Geneva Convention.
Two previous investigations found he had no case to answer.
One, carried out by the International Criminal Tribunal for the former Yugoslavia, concluded there was no case.
A second, commissioned by the prosecutor's office for the State of Bosnia and Herzegovina, ruled that the case against Dr Ganic was politically motivated.
District Judge Timothy Workman, sitting at Westminster Magistrates' Court on Tuesday, said: "These proceedings are brought and are being used for political purposes and as such amount to an abuse of process of this court."
Referring to the two earlier probes, he said: "The evidence which has been subsequently obtained is not significant and does not justify any change in the initial decision.
"In the absence of any additional significant evidence, there would appear to be only two possible explanations, that of incompetence by the Serbian prosecutors or a motive for prosecuting which is based upon politics, race or religion.
"From the evidence I have received from Mr Petrovic [the Serbian deputy prosecutor] I am satisfied that the War Crimes Prosecutor's Office is far from incompetent."
'Conspiracy'
During the hearing, Dr Ganic sat at the back of the crowded courtroom with his son and daughter either side of him.
Afterwards, he said the case was "a textbook example of abuse".
"The government of Serbia tried to undermine the judiciary in this country, they used taxpayers' money and they kept me here for five months," he said.
"The conspiracy will be investigated."
He added: "I acted honestly, with the law, defending my country."
But Vladimir Vukcevic, spokesman for the Serbian War Crimes Prosecutor's Office, said: "We are not happy with the decision and shall appeal within the timeframe."
Last year, a Belgrade court indicted Dr Ganic and 18 other people over their alleged roles in the killings of 42 soldiers.
Dr Ganic was arrested at Heathrow Airport on 1 March after attending a degree ceremony at the University of Buckingham. He has been on bail since.
The university is twinned with Sarajevo School of Science and Technology, where Dr Ganic is president.