Newspaper review: Focus on fate and future of BP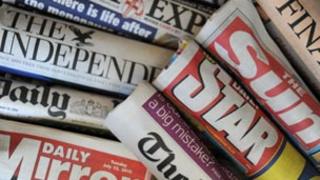 The fate and future of BP feature in many of the newspapers once again.
The Guardian thinks BP has got off lightly for the Gulf oil disaster, saying it will bounce back from a "near-death experience".
Other firms would have suffered "the corporate equivalent of a public lynching" and gone under, it says.
But writing in the Financial Times, former BP executive Nick Butler thinks things will never be the same again for the world's big oil companies.
'Lives at risk'
He says they will have to deal with more regulation, higher costs, and less access to deepwater oilfields.
Meanwhile the Sun bids farewell to BP's chief executive, Tony Hayward, with the headline: "Oil Get My Coat".
In other news, the Times claims the leaking of 90,000 intelligence documents will put Afghan lives at risk because they identify informants.
The Daily Express reports the soaring value of the pound will see money go further for those holidaying abroad.
Coalition at war?
The Daily Telegraph says householders face a £300-a-year rise in gas and electricity bills if the UK is to "keep the lights on" and meet green targets.
Meanwhile the Daily Mail thinks the coalition is at war over a key Conservative election pledge to impose a strict annual limit on immigration.
It says Business Secretary Vince Cable described the plan as "crazy".
The Telegraph reports the use of English words in Germany is upsetting its linguistic guardians.
Donkey work
The German Language Foundation thinks the resulting hybrid - coined Denglish - is harming German culture.
A male model with a mobile phone at a photo-shoot can now be a "Dressman with a Handy at a Shooting", it says.
Finally the Sun says Spurs boss Harry Redknapp has agreed to give a home to tormented Russian donkey Anapka.
The paper says Mr Redknapp was "sickened" by pictures of the donkey parasailing and is planning on opening an animal sanctuary in Hampshire.