Bodies of three UK soldiers repatriated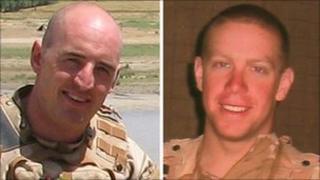 Three soldiers killed in Afghanistan have been flown back to the UK.
Cpl Matthew Stenton, from Wakefield, West Yorkshire, and L/Cpl Stephen Monkhouse, from Greenock, Inverclyde, died in the Lashkar Gah district of southern Afghanistan on 21 July.
They died while saving a wounded comrade during a firefight.
The body of Sapper Mark Smith, from Kent, who was killed in a suspected "friendly fire" incident in Sangin, Helmand, was also repatriated.
Cpl Stenton and L/Cpl Monkhouse were serving in Helmand province with the Royal Dragoon Guards and 1st Battalion Scots Guards respectively.
Family members and comrades said their sacrifices "would never be forgotten".
Sapper Smith, 26, from Swanley and serving from 36 Engineer Regiment, was killed on 26 July.
He was part of a search team supporting 40 Commando Royal Marines Battlegroup, carrying out a clearance of improvised explosive devices when he died.
The MoD is investigating his death and said a smoke shell, designed to provide cover for soldiers working on the ground, may have fallen short of its intended target.
Sapper Smith's death took the total number of British military personnel killed on operations in Afghanistan since 2001 to 325.
The soldiers' bodies were repatriated to RAF Lyneham in Wiltshire. After a private ceremony a cortege will then pass through the nearby town of Wootton Bassett, where it has become tradition for hundreds of residents and visitors to gather to pay their respects.