Security risk men can be deported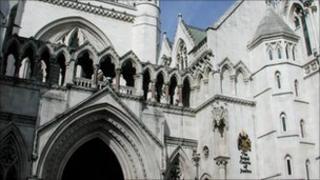 Eight men deemed to be a threat to national security can be deported, the Court of Appeal has ruled.
The men from Algeria and Jordan had argued they may be tortured if they were returned.
They had also claimed they had the right to know more about the UK government's case against them.
But a panel of three judges said Parliament had set limits on what they could know about the allegations they face, even if that appeared unfair.
The case is one of the longest running legal battles over the UK's attempts to deal with men suspected of threatening national security.
The Special Immigration Appeals Commission, the court that handles national security deportations, had already sanctioned the removal of the seven Algerians and one Jordanian
But the eight men argued that their deportations were procedurally unfair because they had not been given a chance to properly defend themselves against allegations made in closed hearings.
Sir David Keene, one of the three judges ruling on the appeal, said: "There is no doubt that to deprive anyone, including an alien, of even the essence of the case put against him as to why he is a threat to national security goes against the basic concept of a fair trial.
"Knowing what material adverse to you the court has seen is undoubtedly a fundamental right as a matter of English common law."
However, the judges said that while the men had raised "forceful" arguments over being treated unfairly, there was nothing they could do because Parliament had set out the rules for dealing with cases like theirs.
Safeguards included Special Advocates, a type of barrister representing a suspect who has been vetted by the security service MI5 to inspect secret papers in closed court.
Sir David said: "Parliament has clearly confronted the fact that the right to a fair trial was being curtailed.
"I accept that there will be instances where there is obvious unfairness to an appellant, but it is an unfairness which Parliament has patently intended and authorised."
The eight men have two weeks to seek permission to take the case to the UK's most senior judges at the Supreme Court.
Growing battle
The Court of Appeal's ruling is part of a growing legal battle over how much information can be disclosed to people who are accused of terrorist activity or of being a threat to national security.
On Wednesday, the Court of Appeal ruled that some former terror suspects could sue the home secretary for placing them under unlawful control orders, a form of house arrest used to monitor some suspects.
In their case, the men won because the home secretary had refused to let them know the gist of the government's case against them, leading judges to declare the restrictions entirely unlawful. The government says it will petition the Supreme Court to hear the case again.
Elsewhere in the High Court, an even bigger case is being brought against MI5, MI6 and three government departments by men who were detained at Guantanamo Bay.
They are suing for damages, claiming that the UK authorities colluded in their mistreatment.
That case is now focused on how much information can be disclosed without compromising national security. More than 60 government lawyers are working through an estimated 500,000 documents, many of them secret files belonging to MI5 and MI6.