General Sir Peter Wall named as next head of the Army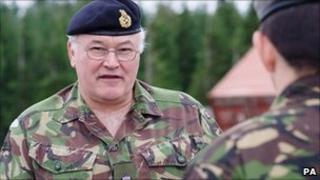 The next professional head of the British Army will be General Sir Peter Wall, the Ministry of Defence has said.
Gen Wall, 55, currently Commander-in-Chief Land Forces, will become Chief of the General Staff in September.
He replaces General Sir David Richards who it had already been announced will become the overall head of the armed forces as Chief of the Defence Staff.
The MoD also said Lieutenant General Sir Nick Parker will become Commander-in-Chief Land Forces in October.
Gen Parker is currently deputy commander of the coalition International Security Assistance Force in Afghanistan.
Early career
Defence Secretary Liam Fox said: "I'm absolutely delighted with both of these appointments. We're very lucky to have men of such high calibre at this time."
Gen Wall was commissioned into the Royal Engineers in 1974 and served his early military career in Belize, the former Rhodesia, Germany, at Sandhurst, and in Hong Kong.
He has also had commands in Bosnia, Iraq and Germany.
In July 2009 he moved from Deputy Chief of the Defence Staff (Operations) at the MoD to become Commander-in-Chief Land Forces.
Gen Parker was commissioned in 1973 and commanded the 2nd Battalion The Royal Green Jackets in the mid-1990s.
He took over his current role in November 2009.
Gen Richards is replacing Air Chief Marshal Sir Jock Stirrup who will leave the top post later this year.
That will happen once the government's strategic defence and security review into the future of the armed forces is completed.