Profile: Gen Sir Peter Wall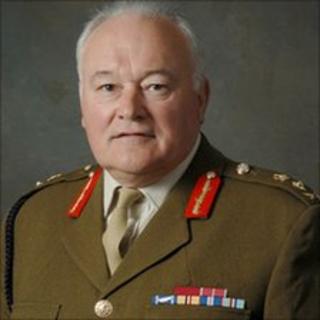 The former Commander-in-Chief Land Forces, Gen Sir Peter Wall, is to be the new head of the British army.
While uncontroversial and, perhaps, unsurprising, Gen Wall's appointment comes at a very difficult time for the Army.
Defence Secretary Liam Fox has refused to rule out a cut in troop numbers in this year's strategic defence review, and Gen Wall will have to steer through any cuts, no matter how unpopular.
The 55-year-old is expected to take over as chief of the general staff from Gen Sir David Richards in September.
Gen Richards will become the Chief of the Defence Staff - in charge of all three services and will communicate directly with the government.
Gen Wall has operational experience in Iraq, commanding 1st (UK) Armoured Division, but has not served in Afghanistan.
'Sitting ducks'
He will, however, understand the kind of pressures British troops are under given his role in charge of resources and training as the head of land forces.
He was appointed to that post, based in Wilton, Wiltshire, in July last year, having served as deputy chief of the defence staff (operations).
It was in that latter role in January that he gave evidence to the Chilcot Inquiry into the Iraq war about events leading to the final withdrawal of British troops. It was not his finest hour.
When asked whether UK troops at their base in Basra Palace were "sitting ducks", he replied "Yup".
Later, he explained that he had not indicated he agreed with the phrase, merely that he acknowledged that description had been used in the past.
Early career
Peter Wall was commissioned into the Royal Engineers in 1974 before reading engineering at Cambridge University.
His early service was spent in Belize, Rhodesia, Germany and Hong Kong.
There were also spells commanding 9 Parachute Squadron Royal Engineers, and 32 Engineer Regiment, including time in Bosnia.
After becoming chief of staff of 5 Airborne Brigade, he was promoted in 1999 to brigadier, commanding 24 Airmobile Brigade and overseeing its merger into 16 Air Assault Brigade.
In 2005 he was made deputy chief of joint operations in the Permanent Joint Headquarters at Northwood.
He was made deputy chief of the defence staff (commitments) in 2007 before taking up his current post as commander-in-chief land.
Gen Wall is married to Fiona, with whom he has two teenage sons, Alexander and Archie.
He follows most sports, playing occasional games of golf and village cricket.
He is also chief royal engineer, and president of the Army's rugby, Association Football, modern pentathlon and sport parachuting groups.