Profile of former Polly Peck chief Asil Nadir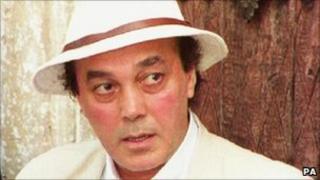 Tycoon Asil Nadir returned to the UK in August to face trial on 66 theft charges relating to the collapse of his Polly Peck business empire in 1991.
One of the biggest success stories of the 1980s, the businessman's tale is literally one of rag to riches. He worked his way up from the rag trade to stock market darling, before a fraud squad investigation turned him into a fugitive.
Mr Nadir, a 69-year-old Turkish Cypriot, had business interests as diverse as electronics, fruit and hotels within his Polly Peck empire.
He became legendary on the stock market, with some shareholders seeing returns 1,000 times greater than their original investment.
But by 1993, Mr Nadir had fled the UK for northern Cyprus as 66 charges of theft involving £34m hung over him.
The charges related to a Serious Fraud Office (SFO) investigation.
Far-reaching
The scandal was so wide reaching that the then Conservative Minister of State for Northern Ireland, Michael Mates, resigned over his links to the businessman.
Meanwhile, Mr Nadir took advantage of the fact that northern Cyprus has no extradition treaty with the UK.
The former Polly Peck tycoon was born in the Cypriot copper mining town of Lafka in May 1941 and took his first job at the age of six - selling newspapers he could barely carry under his arm.
He went onto Istanbul University to study economics but never completed his degree.
By the early 1960s, he had joined his father in the UK and drifted into the rag trade.
The Turkish invasion of northern Cyprus in 1974 provided an unexpected boost for the fledgling entrepreneur.
With the economy in ruins the government called on expatriates to help out, which saw Nadir take over a clothing factory in Nicosia, previously under Greek ownership.
He began exporting to the Middle East and by 1980 his £260,000 London fashion trade business, Wearwell, was valued at £12m on the stock exchange.
From Cyprus he moved on to Turkey and into fruit. And that was where the Polly Peck empire was born.
Boom time
The group's shares started on the London stock market at 5p but doubled and doubled again as profits took off, reaching a peak of £35 in just a few years.
Mr Nadir then bought a TV factory in Turkey, hotels and leisure complexes and a bottling plant for Turkish mineral water.
In the 1980s, he entered the record books after presiding over the most spectacular share price rise anywhere in the world.
In the summer of 1990 he was named 36th in the Sunday Times Rich List.
But just weeks later a bankruptcy petition was lodged against him by his own stockbrokers demanding payment for £3.6m worth of Polly Peck shares Mr Nadir bought in September.
The firm collapsed in 1991 after SFO investigators began probing Mr Nadir's finances - an investigation which saw him flee the country in 1993.
In 2003, the tycoon and a former Conservative Party donor gave an interview to the BBC where he vowed to return to the UK to clear his name.
In that interview he said the accusations that he stole more than £30m from the company were "baseless" and alleged that the SFO abused its powers, making a fair trial impossible.
He is reported to have been running a media company in northern Cyprus during his exile.
In June, Mr Nadir let it be known that he was prepared to return to the UK on condition that he was granted bail while his case was heard, rather than being held in custody.
The Serious Fraud Office agreed not to oppose bail if stringent conditions were imposed.
He returned to the UK in August, and in September was remanded on bail at the Old Bailey at his first court appearance on fraud and theft charges.
His bail conditions included surrendering his passport, reporting to a police station once a week, being prohibited from going near any airport and a curfew between midnight and 0600 BST.
His trial is not expected to take place until 2012 because of the complexity of the allegations.
Mr Nadir and his 26-year-old wife Nur are renting a £20,000-a-month house in Mayfair, central London.