Newspaper review: Focus on public spending cuts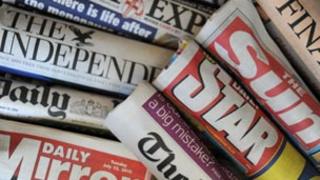 Public spending cuts and reaction to government plans to scrap the mandatory retirement age of 65 fill many papers.
The Times reports a mainstay of the RAF for the past 30 years - the Tornado jet - is expected to be grounded to save £7.5bn in defence spending.
The paper claims to have seen a leaked assessment of the potential savings drawn up by the Ministry of Defence.
The loss of half of the UK's fleet of fast jets would raise questions about the RAF's long-term viability, it says.
'Good economics'
The Independent claims some senior Liberal Democrats have warned the Chancellor George Osborne "your cuts could kill our party".
Meanwhile the government's plans to scrap the mandatory retirement age of 65 provoke a mixed response.
The Times thinks the move will "expand choice and is good economics".
But the Daily Mirror is less enthusiastic, saying the choice between an old age spent reluctantly toiling or in poverty is no choice at all.
Sham weddings
The case of the Church of England vicar found guilty of conducting sham weddings to allow illegal immigrants to stay in the UK features in most papers.
The Daily Mirror reports Reverend Alex Brown married one man twice in the same day.
The Daily Mail says at another wedding, a husband-to-be went under the name of Felix Spaceman.
The paper and the Daily Telegraph say police fear the case may be the tip of the iceberg as criminal gangs exploit weaknesses in Anglican procedures.
OAP alcohol ID
The Daily Telegraph also highlights figures suggesting the UK will have the largest population in Europe by 2050.
The number of people living here will swell to 77 million - overtaking France and Germany - it reports.
Finally, the Sun tells the story of a pensioner who went into his local off-licence in Essex, only to be asked for photo ID in case he was under 18.
According to the Daily Mirror, staff were still not convinced when he produced his OAP bus pass and birth certificate.