Why northern Cyprus is no longer a haven for fugitives
By Chris Summers
BBC News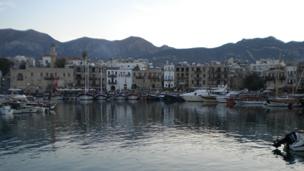 Fugitive tycoon Asil Nadir has returned to Britain to face trial for fraud. In 1993 Mr Nadir fled to northern Cyprus. But why did he choose to go there?
In 1974 Turkey invaded Cyprus after a coup brought to power a group of Greek nationalists who wanted "enosis" (union) with Greece, then ruled by a fascist junta.
Many people in the Turkish Cypriot minority feared for their lives and welcomed the arrival of the Turkish troops.
Turkey eventually occupied almost a third of the island and its troops have stayed ever since, as various initiatives to solve the island's political problems have come and gone.
But the TRNC is recognised only by Turkey and remains in diplomatic and economic isolation.
The TRNC sees the Green Line - patrolled by United Nations troops - as its southern border but the Republic of Cyprus does not recognise it as a border and most Greek Cypriots refuse to cross it because they refuse to show their passports.
The TRNC contains the northern third of the island, including the Karpas peninsula - the panhandle that sticks out into the Mediterranean - and the Kokkina enclave.
In 1993 Asil Nadir, a Turkish Cypriot, fled to the TRNC on board a private plane as the Serious Fraud Office prepared to arrest him in connection with an alleged £34m fraud at his Polly Peck company, which had just collapsed.
Mr Nadir, who was born on the island, has remained there ever since, gaining a TRNC passport and building up a new media business, the Kibris Group (after the Turkish name for the island).
But Mr Nadir is not the only fugitive from British justice who made a beeline for northern Cyprus.
For many years criminals hid in Spain, on the so-called Costa del Crime, but in 1985 an extradition treaty was signed with Britain and a number of crooks ended up back in Britain.
Villains began to look further afield and soon spotted northern Cyprus's potential as a sanctuary, following the publicity surrounding Asil Nadir.
In the late 1990s and early 2000s a number of criminals holed up there, including drug smuggler Brian "The Milkman" Wright.
But in the last five or 10 years there has been a sea-change in Turkish Cypriot attitudes towards Britain and the West.
The Turkish Cypriots, supported by Turkey, have been pushing for a resolution of the island's political problems, particularly as Turkey's chances of joining the EU are linked to the island's future.
The TRNC offered to sign an extradition treaty with the UK but the British government refused, because it does not have diplomatic relations with the TRNC and did not want to offend Cyprus or Greece.
Nevertheless, the police in northern Cyprus have made it clear that criminals are not welcome and they have been working closely with British police.
A TRNC government spokesman said: "The TRNC government will co-operate with British police where a criminal has fled to the TRNC trying to evade justice and where there is a valid extradition warrant."
In 2007 drug dealer Miran Thakrar fled to northern Cyprus after he and his brother committed a triple killing in Bishop's Stortford, Hertfordshire.
The police not only detained him and escorted him back to Britain but also sent over officers to testify at his trial. Thakrar was later jailed for life.
The Turkish Cypriot police have also been assisting British police searching for Sean Lupton, who was thought to have gone to northern Cyprus to launder money from the Securitas robbery in Kent.
The TRNC government said on Friday it would not comment on the Asil Nadir case as it was a "private matter".
But a spokesman did say: "There is no extradition treaty between the UK and the TRNC but the TRNC government will co-operate with British police where a criminal has fled to the TRNC trying to evade justice and where there is a valid extradition warrant."