Killers among prisoners at large despite jail recall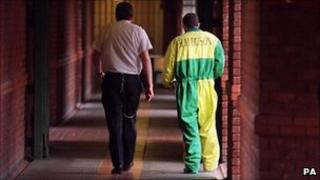 A total of 22 killers remain at large despite having their licences revoked and being recalled to prison.
The Ministry of Justice (MoJ) admitted 18 murderers and four people convicted of manslaughter were among almost 1,000 prisoners who had not returned.
A dozen rapists or attempted rapists were among 32 sex offenders at large.
The MoJ said it would do everything necessary to protect the public and added that prisoners had been recalled in 99% of cases over the last 10 years.
The latest figures, produced quarterly, showed that some former inmates had been on the run since the 1980s.
Authorities in England and Wales recalled 106,969 offenders to jail between April 1999 and March this year for either returning to crime or breaching the conditions of their licence.
By 13 July, 914 had not returned to custody, including some recalled before April 1999.
Of these, 145 were convicted of violent offences against the person. There were also 112 burglars and 106 robbers.
Prisoners serving sentences of at least a year are usually released automatically at the halfway point of their term.
They are placed under licensed supervision to the probation service.