Newspaper review: Focus on Prescott's war evidence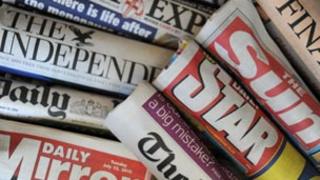 Most papers give coverage to the evidence given by the former deputy prime minister Lord Prescott to the Chilcot inquiry into the war in Iraq.
The Daily Express quotes him as saying "tittle tattle led us to war".
The Daily Mail says that in a "colourful" performance he described former attorney general Lord Goldsmith as "not a happy bunny" when questioned over the legality of the war.
For the Independent, the inquiry has "exposed the folly of invasion".
Change of heart
The Times reports that diplomatic relations with Pakistan have been dealt "a severe blow" by the prime minister's comments made in India.
The paper says Pakistan's intelligence agency has cancelled a visit to London after David Cameron suggested Pakistan was "exporting terror".
Daily Telegraph columnist Charles Moore thinks the PM got his India tour wrong.
Mr Cameron "won't get an extra call-centre contract in Bangalore, let alone a Pakistani change of heart", he says.
Clinton nuptials
For the Telegraph, the "Chelsea match is the hottest ticket of the year" - the wedding of Bill and Hilary Clinton's daughter, Chelsea, to investment banker Marc Mezvinsky.
The Independent says it is "the closest Americans will get to a royal wedding".
The Guardian reports that Bill Clinton has shed 15 pounds to look his best.
The Telegraph notes President Obama declined to attend, quoting him saying: "It's tough enough having one president at your wedding. You don't want two."
'Beanz for Idiotz'
The Guardian says that after 150 years Heinz baked beans are to be sold in screw-top plastic jars.
The paper says it means fans will spare themselves "the agony of lacerating their fingers on jagged tins".
For the Sun, the re-sealable tubs will cut waste. But for the Mirror, it is a case of "Beanz for Idiotz".
The paper says the containers will have a see-through measure on the side so you can see at a glance how many beans you have left.