All-day drink law was a mistake, says Sir Hugh Orde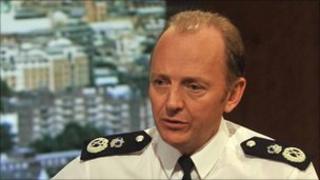 The 24-hour drink licensing laws were a "mistake", Association of Chief Police Officers president Sir Hugh Orde says.
It comes after the new home secretary unveiled plans to overhaul the laws, saying promised benefits of a "cafe culture" had failed to materialise.
Sir Hugh told the BBC that those who benefited from longer licensing hours should help pay for policing.
He also said police forces accepted the prospect of cuts as a result of the financial situation.
But he added that officers must be released from some of the burdens imposed by legislation over recent years.
Sir Hugh told the Andrew Marr Show: "I think 24-hour drinking frankly was probably a mistake.
"The culture in the UK is different from other parts of Europe, where it is far less threatening and far more successful.
"We need to take that legislation away and indeed I would welcome the notion that if we have longer licensing hours the people making the money pay for some of the policing that has to be put in place to keep those people safe when they're out under the influence of alcohol."
'Solve crime'
Sir Hugh also responded to a report which suggested only one out of every 10 police officers was available at any time to tackle crime, which led to calls for cuts among desk-bound officers.
"Chief constables are working day in day out to cut out any fat in the system. We have been doing that for many years.
"We have to recognise that some officers may have to go, but people in offices solve very dangerous and serious crime and bring very dangerous people to justice."
Sir Hugh welcomed Home Secretary Theresa May's assurance that her reforms would not compromise chief constables' operational independence.
But he said he was concerned that elected commissioners would respond to voter pressure by placing excessive emphasis on the work done by police on the streets.
"We will have to work very closely with them so they understand the complexity of our world and don't just go down the local, attractive, agenda, and realise that we have cops doing all sorts of things," he said.
Sir Hugh also said Asbos had been "a mixed bag".
"Most people stop behaving badly because of interaction with the police before we get to Asbo level," he said. "We may not need Asbos to do that."