Pilot hurt as glider hits power lines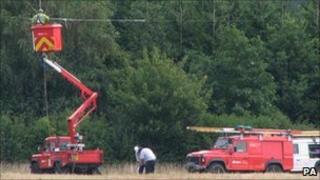 A pilot suffered burns as his glider crashed into overhead power lines in Northamptonshire, police have said.
The accident, which happened near the A5199 Cold Ashby Road in Thornby on Sunday, also caused a temporary power cut to 287 homes in the area.
The pilot also suffered "impact injuries" and was flown to Walsgrave Hospital, police said.
The Air Accidents Investigation Branch said it had been informed of the glider crash and would be investigating.
Emergency services were called to the incident just before 1600 BST after the glider hit high voltage overhead power lines before landing.
"This caused severe damage to the aircraft and injuries to the pilot," said a Northamptonshire Police spokesman.
A Fire and Rescue Service spokeswoman said firefighters had used cutting gear to remove the man from the glider.
Police added that the electricity supplier had quickly restored power supplies to all but a few places and full power was restored to all homes on Sunday evening.