UK charities launch monsoon flood appeals for Pakistan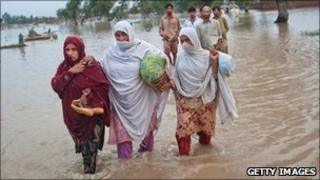 British aid agencies have launched appeals after 27,000 people were left stranded in Pakistan by the worst floods there in 80 years.
At least 1,100 people have died and there are fears that diarrhoea and cholera will spread among the homeless.
The British Red Cross is supporting the work in Pakistan of the Red Crescent Movement which is distributing aid.
Other UK organisations responding include Actionaid, Cafod, Islamic Relief, Oxfam and Save the Children.
Meanwhile, Prime Minister David Cameron has sent his condolences about the disaster to the Pakistani government.
The message was communicated by Adam Thomson, Britain's high commissioner in the capital Islamabad.
The British Red Cross said emergency aid including tents, tarpaulin sheets, food and kerosene stoves was being distributed and a medical camp had been set up.
British Red Cross disaster relief manager Pete Garratt said: "With more monsoon rains predicted over the next two days, the situation is going to get considerably worse.
"Thousands of people already have lost their homes and livelihoods, crops have been destroyed and whole villages have been washed away.
'Most vulnerable'
"Roads and bridges have been affected, leaving some areas cut off, and with the flood levels due to rise there is a risk that many more people could find themselves homeless."
The organisation has already released £50,000 to provide immediate relief, and supermarket giant Tesco has donated £20,000 in partnership with the British Red Cross.
Actionaid is planning to respond with support for emergency food supplies, clean water, sanitation and shelter.
Serena Green, Actionaid's country director for Pakistan, said: "We will be rolling out our emergency response in the coming days, focusing on the most vulnerable."
Aid agency Care is supporting health teams, mobile clinics and the distribution of emergency supplies.
Its country director in Pakistan, Waleed Rauf, said: "Thousands of survivors are now in need of shelter and tents and basic health facilities as there is a possibility of an outbreak of water-borne diseases in some affected areas."
Catholic aid agency Cafod has contacted its partners in Pakistan to find out what humanitarian assistance is needed.
The Concern charity has launched an appeal and Islamic Relief has begun the distribution of tents and blankets.
Medical charity Merlin has increased its operations in Pakistan while Save the Children, which has launched a £6.3m fundraising appeal, is preparing to distribute plastic sheeting for shelters, household supplies and hygiene kits.
Shaharyar Bangash, of Christian charity World Vision, who has spent four days in the flood zone, said: "Drinking water is the most urgent need now, even more than food."
Oxfam is appealing for £3.8m to support its attempt to bring clean water, hygiene supplies and sanitation kits to nearly 400,000 people.
Its humanitarian director Jane Cocking said: "This is a flood on a scale we have not seen in decades in Pakistan and requires an aid effort of equal measure."
'Deeply concerned'
The Disasters Emergency Committee, an umbrella group of UK aid charities, said it was monitoring the situation.
A spokesman said: "Most of our members have launched appeals, or are responding or preparing to respond."
The flood has devastated entire communities and it is now estimated that more than 1.5 million people desperately need help. Food and drinking water are in short supply.
Floodwaters receded in some areas as weather conditions improved on Monday but more rain is now forecast.
The UK government's Department for International Development said it was providing £10m for Pakistan.
International Development Secretary Andrew Mitchell said: "I know many British people are deeply concerned by the terrible suffering caused by the ongoing monsoon floods in Pakistan.
"The government of Pakistan is leading the relief efforts and the UK is ready to help in any way we can."