Pakistan president's visit to UK criticised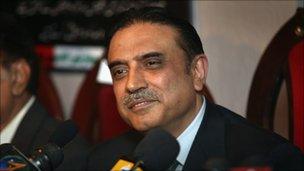 Pakistan's president has arrived in Britain amid a row over comments made about the country's role in terrorism by Prime Minister David Cameron.
Ahead of his arrival, Mr Cameron again defended his claim that Pakistan must not "promote the export of terror".
President Asif Ali Zardari has also been criticised for making his UK trip while Pakistan is facing severe floods.
Ahead of his visit he told Le Monde the international community was losing the war against the Taliban in Afghanistan.
In an interview with the French newspaper, he said coalition forces had "underestimated" the situation on the ground.
Meanwhile, aid organisation Unicef says the death toll from the worst flooding to hit Pakistan in 80 years is at least 1,400, with up to three million people affected.
Mr Cameron made his controversial remarks during a visit to India last week. He said of Pakistan that the world could not "tolerate in any sense the idea that this country is allowed to look both ways and is able, in any way, to promote the export of terror".
That led to an effigy of the British PM being burned in the street in Karachi, and to Pakistani intelligence officials cancelling a visit to the UK in protest.
In a phone-in with BBC West Midlands on Tuesday, Mr Cameron defended his remarks and insisted the UK-Pakistan relationship was "strong".
"But there has been and still is a problem of terror groups in Pakistan that threaten other countries," he said. "[They] also threaten our troops in Afghanistan, threaten India and threaten us in the UK, and they need to be dealt with.
"As I said in India, to be fair to the Pakistan government they have done more recently to combat these terror groups, but they need to go on doing even more, and we should be working with them in order to encourage them to do that."
President Zardari pledged to speak to Mr Cameron on Friday about the prime minister's remarks.
He told Le Monde: "The war against terrorism must unite us and not oppose us. I will explain face to face that it is my country that is paying the highest price in human life for this war."
President Zardari is due to meet several UK politicians with Pakistani links on Thursday, but two - Khalid Mahmood and Lord Ahmed - have refused the invitation.
Mr Mahmood told the BBC the country was facing "a huge environmental catastrophe" and the president should not be "swanning around" overseas, but should be at home helping those who are suffering.
He also said extremists in Pakistan would take advantage of the president's absence to try to win support from ordinary people.
Unconfirmed reports say that Islamist groups, some accused of having links to the Taliban, have been providing aid to many of the victims.
"Whilst he's visiting around here, you're going to get extremists going to those people saying, 'We're going to be working with you, your president's not here, we want you to come with us,' and that's a huge coup for the extremists," said Mr Mahmood.
He also said the prime minister's comments were "hugely offensive to the Pakistani diaspora in the UK and the Pakistani people as a whole".
Mr Mahmood said they also undermined the ability of the UK to work with Pakistan to identify and stop terrorist plots formulated there and designed to target Britain.
Ishtiak Ahmed, of the Bradford Council of Mosques, agreed that the president should have stayed in Pakistan.
He told the BBC it would have been a "very firm diplomatic response" to David Cameron, and the finances spent on the trip would have been "better invested" helping those affected by the floods.
President Zardari is due to meet Mr Cameron on Friday.
Sam Zarifi, Amnesty International's Asia and Pacific director, told the BBC: "There has been quite a bit of pressure on President Zardari to cancel his trip.
"[This is] partly due to the magnitude of the flood, but also because of what is perceived as a slight against Pakistan by Prime Minster Cameron."
And former Liberal Democrat leader Sir Menzies Campbell urged the government to use the visit to "rebuild bridges with Pakistan", and suggested that a generous response to the floods could help.
"It is not in our interests to be at loggerheads with a country which is so important to the outcome in Afghanistan and so essential to our national security," he said.
"The fact that the president has continued with the visit gives us an opportunity to re-establish good relations, not least because of the criticism which he has come under for persisting with the visit.
"The more generous we can be with aid and assistance with what is now a terrible tragedy, the easier it will be to get back on good terms."
Related Internet Links
The BBC is not responsible for the content of external sites.