Newspaper review: Cameron-Pakistan row rumbles on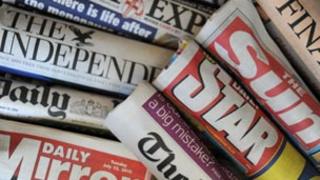 The UK visit by Pakistan's president following the row over David Cameron's remark on the country exporting terror is covered by many of the day's papers.
A senior Pakistan official tells the Guardian President Zardari will show "if we are not supported at this time, how things will get worse".
The Independent says Mr Zardari will "confront" Mr Cameron over the terror allegations.
But it says Mr Zardari faces criticism himself for pressing on with the visit despite major floods in Pakistan.
Oil ashore
A Daily Telegraph report finds an "insidious relationship" between financial advisers, funds and stockbrokers costs savers billions.
The paper says investors may be unaware that advisers can receive thousands of pounds in return for referring them to a savings or pension fund.
The Times says it has evidence oil is still washing ashore despite BP's wind down of its Gulf of Mexico clean-up.
It says it has found miles of shore coated knee-deep in oil sludge.
'Super calves'
According to the Daily Mail, 105 Holstein cattle that were descended from a clone were born on British farms in the past four years.
The paper warns "super calves" are secretly spreading through the dairy industry.
Many pensions are being "slashed in half" because of high charges and hidden fees, the Daily Express reports.
The paper warns middle class workers could see £100,000 wiped off the value of their pensions.
'Nonsense sentence'
The Sun's main headline "Jock, strop and one smokin' hairdryer" features alongside a picture of footballer Wayne Rooney smoking a cigarette.
It says Rooney "faced a ferocious 'hairdryer' blast from Man United boss Sir Alex Ferguson".
The Daily Mirror leads with a story about a boxer sentenced to five years for killing a soldier by punching him.
The Mirror says the "cowardly" attack merits more than a "nonsense sentence".