'Huge challenge' for UK flood relief effort in Pakistan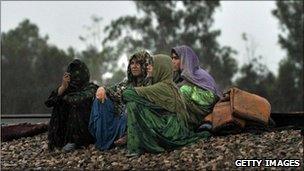 Aid workers face "huge challenges" dealing with the Pakistan flooding relief effort, a UK charity has said.
Rescue teams are trying to reach tens of thousands of people trapped by floodwater in the north of the country.
Oxfam's Nisar Shah in Pakistan told the BBC access was limited to main roads in the flood-affected areas, and some remote valleys were still cut off.
Rain has fallen again since, hampering the relief effort, and more is expected over the next few days.
Oxfam is one of several UK aid organisations responding to the disaster, including Actionaid, Age UK, British Red Cross, Cafod, Care, Christian Aid, Concern, Islamic Relief, Merlin, Save the Children, Tearfund and World Vision.
Mr Shah, public health adviser for Oxfam in Pakistan, who is in the capital Islamabad, said: "The logistics is one of the big challenges to reach those areas.
"Oxfam and other humanitarian agencies have been in the field for the last 72 hours. Provision of clean drinking water is one of the main important needs. Shelter is the second area.
"At the moment we have just access to the main road areas and there are many isolated valleys which have not yet been reached, even by the helicopter services to that area."
Mr Shah said that 80% of the infrastructure, including drinking water, roads and irrigation channels for agriculture, had been damaged.
"The activities which were just started two days back are now again hampered due to this recent rainfall and there is the forecast that this rainfall will continue in the next two days. So there are huge challenges coming," he said.
Tearfund's Ashraf Mall, based in Sindh province, said the flooding had left a "trail of destruction" in Khyber-Pakhtoonkhwa province.
He said: "People are still stranded in many areas as water is still standing. People are waiting for food, health facilities and other help.
"The flood water is passing through Punjab. Some districts in Sindh have also started to get flooded, and to make matters worse it's also raining.
"The second spell of monsoon rain has started so that is not helping the relief efforts of the different aid agencies and the government in these areas."
The BBC's Aleem Maqbool in Nowshera, one of the worst-affected districts, says that torrential monsoon downpours have started again, hampering the relief effort.
Our correspondent said: "What those new rains have meant is that crucial helicopter aid flights, which were the only way of getting to so many areas, have been suspended."
Aid agencies said entire villages had been washed away in the region's worst flooding for 80 years.
Unicef said three million people had been affected and 1,400 had been killed. Other estimates said between 800 and 1,500 had died, with 27,000 still trapped.
British Prime Minister David Cameron has sent his condolences over the disaster to the Pakistani government.
The message was communicated by Adam Thomson, Britain's high commissioner in Islamabad.
The UK government's Department for International Development has pledged £10m for Pakistan.
Related Internet Links
The BBC is not responsible for the content of external sites.