Dead UK servicemen named by MoD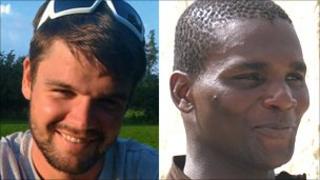 Two UK servicemen killed on the same day in separate incidents in southern Afghanistan have been named by the Ministry of Defence.
Royal Marine Adam Brown, of Alpha Company, 40 Commando, was killed on Sunday in an explosion in Sangin, Helmand, while on foot patrol.
L/Sgt Dale Alanzo McCallum, from 1st Battalion Scots Guards, was shot dead in the Lashkar Gah district of Helmand.
Their deaths took the toll of UK deaths in Afghanistan since 2001 to 327.
'Model commando'
Amy Brown, widow of the 25-year-old Royal Marine, of Burtle, Somerset, said her husband would always be her hero.
"My wonderful husband, my childhood sweetheart and best friend. Always a hero in my eyes and I am so proud of you. I will treasure the perfect memories I have of our life together, always," she said in a statement issued by the MoD.
"You are a true inspiration to all who knew you and you made me the proudest woman in the world when I became your wife. I love you now, always and forever."
Marine Brown - killed instantly in the blast - joined the Royal Marines in 2004 before being deployed to Iraq, Sierra Leone and Afghanistan.
Lt Col Paul James, Commanding Officer, 40 Commando Group, paid tribute to Marine Brown's courage, fitness and professionalism.
"He was a model commando and true Alpha Company Saint," he said.
"He had spent his whole career in 40 Commando and had volunteered to come back a second time to Afghanistan.
"He was a bright and diligent man who used his experience wisely; he reassured and inspired others, he was the marine that everyone wanted to work with."
'Sunshine smile'
Jamaican-born L/Sgt McCallum, 31, who was killed by small-arms fire, was just two months from promotion to sergeant.
The father of one enlisted in the Army in June 1998 and was later stationed in Germany, before deployments in Kosovo and three tours in Iraq.
His family paid tribute, saying: "Dale was a wonderful father, brilliant brother, a loving son.
"He was cherished and highly respected by everyone that knew him. We all loved Dale for his easygoing attitude and his sunshine smile, for his mannerisms and his charm.
"Dale was passionate about life and displayed immense enthusiasm for every challenge he took on."
Lt Col Lincoln Jopp, commanding officer of 1st Battalion Scots Guards, said L/Sgt McCallum was "a consummate soldier".
Maj Rupert Kitching, Officer Commanding Left Flank, 1st Battalion Scots Guards, added: "We have lost a true friend, an exceptional soldier and one of life's true characters."
Defence Secretary Liam Fox said it was clear from the tributes paid to Marine Brown that he was highly respected by his colleagues and commanders for his professionalism and ability to inspire.
He said of L/Sgt McCallum that he was a soldier who had achieved much during his 12 years in the Army and who clearly had much more to give.