Girl guides call for airbrushed photos to be labelled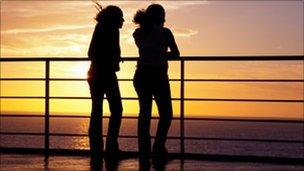 Airbrushed celebrity photos should be labelled to help tackle "damaging and unrealistic pressures" on young women, the UK's biggest girls' group has said.
Liz Burnley, of Girlguiding UK, said "unobtainable ideals" affected young girls "badly", and urged the government to introduce compulsory labelling.
A Girlguiding poll of 1,109 girls found 50% of those aged 16 to 21 consider having surgery to change their looks.
Some 42% of 11 to 16-year-olds admitted watching what they ate.
Ms Burnley said: "We know how profoundly they feel the pressure to conform to a particular body image and how badly they can be affected by these unobtainable ideals.
"We are proud to support the calls of our members who believe that it is time that the prime minister addressed their concerns and acted in the interests of girls and young women across the country."
Some 20,000 Guides currently taking part in an annual camp in West Yorkshire are being encouraged to sign a petition calling for David Cameron to introduce a law forcing magazines to inform readers when photographs have been airbrushed.
Susan Ringwood, of eating disorder charity Beat, said they were committed to working with Girlguiding UK to make "this important call to action a reality".
"Young people with eating disorders tell us that being surrounded everyday by pictures of unnaturally 'perfect' bodies makes their own recovery so much more difficult to achieve," she said.
"We know the difference it would make to all young people's self-esteem and body confidence if they could be sure which of the images they see are natural and true to life."
Singer Javine Hylton backed the campaign, saying girls "needed to learn to be confident with their bodies".
"They need to cherish themselves from their heads to their tip-toes, embracing both their beauty and their flaws," she said.
Last month, Equalities Minister Lynne Featherstone said she wanted to see an end to airbrushing, or the introduction of a kitemark to indicate where images have been altered.
But she said she had "no desire to impose regulation or restriction on advertisers or others", and hoped they would make changes to their practices on a voluntary basis.
The Girls' Attitudes survey was carried out online in July 2009 and included both Girlguiding members and non-members.
Related Internet Links
The BBC is not responsible for the content of external sites.