MoD settles stressed press officer case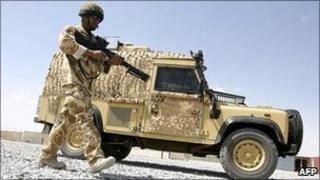 A Ministry of Defence press officer who claimed he suffered from stress-related illnesses after being "frugal with the truth" about troops' safety in Iraq has settled his case with his employer.
John Salisbury-Baker, 63, from York, was pursuing a claim for disability discrimination.
He said his health was affected by dealing with families of dead soldiers.
Details of the deal, which was reached in March, will not be disclosed under a confidential agreement.
Mr Salisbury-Baker's job involved telling the media that Army vehicles, such as Snatch Land Rovers, were adequately equipped to withstand roadside bombs.
'Final settlement'
His role involved dealing with the families of soldiers who had been killed, and he said he felt responsible for the deaths of the soldiers because of his role in speaking out about the safety of military equipment in Iraq.
He began working for the ministry in 1996 as an information officer and later became defence press officer at the Imphal Barracks, in York.
In 2007, he was diagnosed with stress-related angina after suffering anxiety, discomfort in his chest and sleepless nights.
After being off work sick for 12 months, he returned to work briefly but was subsequently told he had post-traumatic stress disorder.
A ministry spokesman said: "A legally binding agreement was reached between Mr John Salisbury-Baker and the MoD in March 2010, without admission of liability and in full and final settlement of all claims.
"Both parties agreed to keep the terms of this agreement confidential and we will not discuss it with a third party."