Budget cuts threaten council 'homes for life'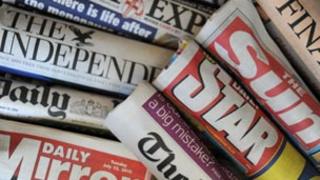 For the Times and the Guardian the main news is David Cameron's revelation that council house tenants may in future not be able to expect a "home for life".
The charity, Shelter, tells the Times the government must ensure it can justify taking away the only safety and security the poorest in society have.
The Daily Mirror says it would cause deep anxiety for countless families.
"The threat of eviction," it says, "will do nothing to encourage people to get a job or promotion."
'Soaring grocery costs'
Hospital waiting times have begun to rise after years of decline, according to the Daily Telegraph.
The trend has been reversed, the paper says, by the introduction of European rules last August, limiting doctors to a 48-hour working week.
Meanwhile the Daily Express predicts that food prices are set to soar.
The cost of wheat has apparently seen its highest monthly increase for 37 years. The paper says the cause is the worst drought in Russia for 130 years.
Exchange of fire
A soldier pruning a tree can be seen on the front of the Independent and in one or two other papers.
The soldier had been lifted on a hydraulic platform across a fence on the border between Israel and Lebanon, and it resulted in an exchange of fire which left several people dead.
The Daily Mail is among several papers that tell the sad story of a 16-year-old boy who shot himself while talking to a policeman on the phone.
Alexander Codrington, the son of a baronet, was heartbroken after splitting up from his first real girlfriend, the Daily Mirror says.
Swarming summer wasps
The Sun dubs Prime Minister David Cameron "David Grey" after spotting that "the premier's dark brown locks are rapidly losing their colour".
"Was it the shock of discovering the scale of Labour's debts, or the strain of having to agree with Nick?" it asks.
Finally, if you keep being pestered by wasps, you are not alone.
According to the Daily Express, calls to pest control firms soared by 230% last month. And things are expected to get worse, because of the warm weather.