DEC launches monsoon flood appeal for Pakistan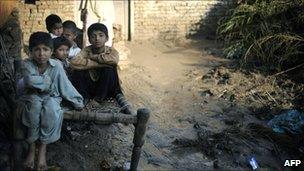 The Disasters Emergency Committee is appealing for donations to help people caught up in the worst floods Pakistan has seen for 80 years.
A hotline to the group of 13 UK humanitarian aid agencies has been set up and special broadcasts will run on television and radio from Thursday.
People will also be able to give money for the relief effort by post, text message, at the Post Office and banks.
Some 1,400 people have died and three million more are said to be affected.
Further rain slowed the relief effort in on Tuesday as aid agencies struggled to reach the thousands of people cut off by the floods, which hit the north west of the country hardest.
They have warned hundreds of thousands of people are awaiting help and there are shortages of food, clean water, shelter and medicine.
In some affected areas, there were protests at the government's perceived inaction. The Pakistan army has defended its rescue operation.
It is feared that disease will spread in the aftermath and reports have emerged of cholera cases in the Swat Valley.
The United Nations estimates 980,000 people have lost their homes or have been forced to flee, while the UN World Food Programme said some 1.8 million needed food aid.
Jehangir Malik, of Islamic Relief, one of the DEC charities, said: "It's really taking its toll on the people. It's just mayhem, devastation and frustration is starting to set in.
The other DEC charities are ActionAid, Age UK, British Red Cross, CARE International, CAFOD, Christian Aid, Concern, Merlin, Oxfam, Save the Children, Tearfund and World Vision.
ActionAid is working with its partners to help more than 23,000 people in the Punjab areas of Kot Adu, Layyah, Khoshab and Bhakar to distribute food including rice, sugar, pulses, oil and tea. Twelve medical camps have been set up there. In Azad Jammu Kashmir and Khyber Pakhtoonkhwa - which includes hard-hit areas of Swat and Swabi - it is providing sheets, mattresses and mosquito nets to displaced survivors.
The British Red Cross has released £50,000 from its disaster fund to provide immediate relief. With the International Federation of Red Cross and Red Crescent Societies, it is supporting the Pakistan Red Crescent to help 35,000 people by distributing food and other supplies and working to provide water and sanitation.
CARE International has sent 11 trucks of emergency supplies to Khyber Pakhtunkhwa including shelter for about 1,800 people, hygiene kits, kitchen sets and water purification tablets. It has set up eight mobile health clinics and is due to send shelter and supplies to other districts.
Christian Aid is working with its partner agencies to provide food shelter and medical assistance to 50,000 people
Concern has been carrying out assessments with local partners and is providing clean water, food, shelter, mosquito nets, hygiene and kitchen items and emergency medical help. It reached 400 families on Tuesday and hopes to help 10,000.
World Vision has distributed relief supplies to more than 7,000 people and will continue to deliver them in coming days. It hopes to help long-term recovery in the area.
The DEC's automated donation line is 0370 60 60 900 and the website is www.dec.org.uk.
Related Internet Links
The BBC is not responsible for the content of external sites.