Newspaper review: Papers make gloomy City forecasts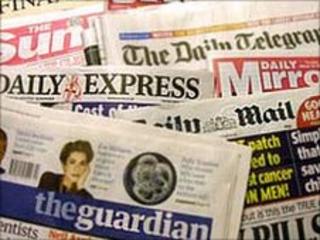 More gloomy financial predictions surface in several of the papers.
The Guardian says fears of a double-dip recession are intensifying as service sector growth stalls.
Lloyds Banking Group's return to profit is too early for champagne as it still draws funds from the Bank of England, government and EU, the Sun tells us.
The Daily Telegraph, meanwhile, reports that middle-income families face being £1,000 a year worse off amid "savage" rises in the cost of living.
Controversial farm
The Daily Telegraph also predicts the pension age could be raised to 66 within five years.
The Daily Mail leads on a claim that the farmers at the centre of the cloned meat row own a further 96 cattle sired by a bull which was born to a clone.
It says all the big supermarkets made it clear they would not touch milk and meat from clones or their descendants.
And the Times reports that the Chinese government is the mystery backer behind a bid to buy Liverpool Football Club.
'Fire and brimstone'
The US president's announcement that most of the oil spilt in the Gulf of Mexico had gone was widely covered.
Barack Obama's "fire and brimstone" condemnations have caused enormous damage to BP and Anglo-American relations, the Daily Express reflects.
The Daily Mirror hopes the industry will learn the lessons of what it calls "this disastrous episode".
The Independent says it does not want to see any "knee-jerk over-regulation" as it is not feasible to stop drilling.
Bog standard car
The Daily Mirror's leads suggests a man convicted in 1986 of murdering his adopted parents, sister and her twin sons could be cleared.
It says a missing police phone log has come to light which backs Jeremy Bamber's long held claim of innocence.
Finally, the Times brings news of a car converted to run on a natural resource with no foreseeable shortage.
The "Bio Bug" is a Volkswagen Beetle - powered by methane from human waste.