Newspaper review: Papers make gloomy City forecasts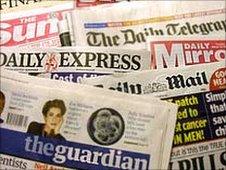 More gloomy financial predictions surface in several of the papers.
It says all the big supermarkets made it clear they would not touch milk and meat from clones or their descendants.
The US president's announcement that most of the oil spilt in the Gulf of Mexico had gone was widely covered.
It says a missing police phone log has come to light which backs Jeremy Bamber's long held claim of innocence.
The "Bio Bug" is a Volkswagen Beetle - powered by methane from human waste.
Related Internet Links
The BBC is not responsible for the content of external sites.