Papers recount Naomi Campbell's blood diamond evidence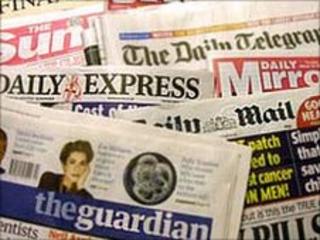 Naomi Campbell's appearance before the special court for Sierra Leone at the Hague features on many front pages.
The Times carries three pictures of her giving evidence under the caption "Diamonds and dirty stones, a supermodel's story".
"I never guessed they were diamonds", is the Independent's quote.
Delving deeper, the Sun's body language expert says Miss Campbell's appearance in the court suggested a "gracious, but mildly irritated diva".
Iraq exclusive
The Guardian carries an exclusive interview with Iraq's former deputy prime minister, Tariq Aziz, who is serving 15 years in a Baghdad jail.
"US troop pull-out will destroy Iraq" is the front-page headline.
Aziz tells the paper that by pressing ahead with a withdrawal of combat troops President Obama is "leaving Iraq to the wolves".
He argues that his country now has "more sick and hungry" people than under Saddam Hussein's regime.
'Food war'
A number of papers focus on the repercussions of Russia's decision to impose a ban on grain exports.
The Financial Times says panic on the commodities markets, which has sent wheat prices soaring, will see price hikes in staples such as bread, flour and beer.
The Daily Mail takes a more direct approach with the headline "Putin puts 15p on the price of your loaf".
The paper says there are some fears that the move by Moscow will trigger an international food war.
My old China
As the Independent examines reports that Google is to buy preferential web access for those that pay, the paper asks, "Has the Internet lost its soul?"
Finally, perhaps the best headline of the day goes to the Daily Mirror.
The paper looks at claims the overseas investment arm of China's government is looking to buy Liverpool football club.
The paper points out historical trading ties between China and the port of Liverpool under the headline "You'll never Wok Alone".