Families 'hit by legal aid cuts', Law Society warns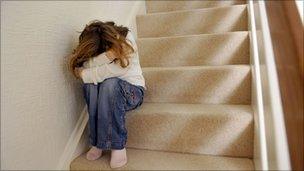 Thousands of vulnerable families could be left without any legal representation following a shake-up in legal aid, the Law Society has warned.
The Legal Services Commission, which runs the £2.2bn scheme in England and Wales, has cut the number of firms able to offer legal aid from 2,400 to 1,300.
But the society said this decision could have also have a detrimental affect on victims of domestic violence.
The commission said it was committed to providing a "better quality service".
The Law Society, the independent body representing the interests of law firms, has called on the commission to undertake a public review after the number of firms given the contracts to provide social, welfare and family legal aid, was cut by nearly half.
The Legal Services Commission (LSC) had asked law firms to reapply for the three-year contracts during a revised tendering process. The firms had to meet an extended set of criteria to be awarded the contracts.
Clients with an ongoing family case with a firm that has not been awarded a contract will not be affected, as all providers will be able to continue cases which were opened before the new contracts come into force on 14 October.
But the Law Society's Mark Stobbs said Wales, Cornwall, Dorset, Lincolnshire and Humberside were among the areas where people may no longer be able to get the help they need.
"We think this is potentially devastating," he said.
"The LSC is potentially creating advice deserts here, where people simply can't get access to a proper lawyer.
"We are worried about places like Wales where it seems the number of solicitors is being reduced by a half, we are worried about Cornwall where 50 firms are being reduced to less than 10, and places like Poole and Dorset where there is only one firm of solicitors with a contract for over 140,000 people."
Oliver Hudson from Stamps Family Solicitors in Hull said he was concerned about the results of the LSC's tendering process.
He said: "These services are particularly important, particularly for the protection of children all around the country and in Hull.
"If firms like ours are removed from the process of being able to provide legally aided support for these families - many whom have no chance of paying for their own legal care sadly - it's going to cause so many problems."
His firm works on behalf of a variety of clients, including Sarah, who was beaten up regularly by her former partner.
She said: "The domestic violence started a couple of months after I got into the relationship.
"He started punching me, strangled me, threw me in the kitchen and then afterwards said, 'I'm sorry, I'm sorry'.
"It was terrifying because I didn't know how far he was going to go and it was terrifying for the kids to see."
She said her life changed after she contacted Mr Hudson's firm and was given legal aid.
"I went to court about 20 times, but if it wasn't for legal aid I would not have gone because I couldn't afford the cost of court," she said.
Sue Berelowitz, deputy children's commissioner for England, said she was concerned that the cuts would lead to a loss of expertise and that people would have to travel long distances if they wished to find a lawyer specialising in legal aid cases.
But the LSC disputed this and said there would be enough firms offering legal aid in every area.
The commission's Hugh Barrett said: "We expect to finance the same number of cases in family issues in the next 12 months as in the previous 12 months.
"So this tender exercise is not about reducing expenditure; this is about providing a better quality service to clients in the future."
Justice Minister Jonathan Djanogly said the government was listening to what people who use the legal system wanted.
He said: "Recently we announced a fundamental look at legal aid, to put in place an efficient, accessible system that also provides better value for money.
"We must consider how to make a more efficient legal aid system which is focused on those who most need it, within the necessary financial constraints."
Here are a selection of your comments
Related Internet Links
The BBC is not responsible for the content of external sites.