Newspaper review: Papers analyse Zardari's UK visit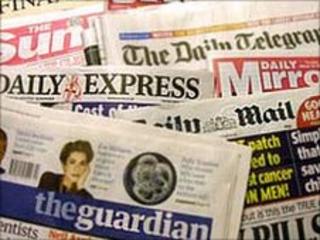 As Pakistani President Asif Ali Zardari's controversial visit to the UK comes to an end, the papers review the overall outcome of his trip.
The Guardian says Mr Zardari was "beaming" following what Downing Street described as "positive" discussions with David Cameron.
And Mr Zardari tells The Times about his late wife Benazir Bhutto.
But the paper claims he was hurt by Mr Cameron's comments about Pakistan's relationship with terrorists.
The Financial Times speaks to Pakistanis living in Britain, some of whom it says are boycotting Mr Zardari's visit to Birmingham.
The paper says they are angry over his decision to come to the UK rather than oversee the relief efforts following the catastrophic flooding in Pakistan.
Abdallah Bawhab told the paper the president's trip was "disgusting" and said: "He is taking a holiday when he should be in Pakistan boosting morale."
'Major military power'
The Daily Telegraph says the Royal Air Force could lose 7,000 personnel as part of defence cuts.
If implemented, the paper says the cuts will mean Britain will almost certainly depart the world stage as a major military power.
But the Ministry of Defence dismisses this and says the story is based on unfounded speculation.
The Guardian has an exclusive interview with an Iranian woman sentenced to death by stoning for adultery.
Sakineh Mohammadi Ashtiani's sentence was commuted to hanging but she claims she might still be stoned to death.
Hallucinogenic plants
The Daily Mail says Foreign Secretary William Hague is being lined up to speak at the Liberal Democrat party conference.
The move is described as a Tory "charm offensive" to win over disaffected Lib Dems.
But the paper warns he might also alienate some activists, whose views on Europe and immigration are "the antithesis" of their own.
Sharon Nowell tells the Independent she was "gobsmacked" to find a South American poison arrow plant in her parents' shrubbery in Keresley.
The hallucinogenic Datura stramonium is normally used by tribespeople in the Amazon to stun their prey.
The Daily Express reckons singer Robbie Williams's impending wedding means "women around the world are bracing themselves for heartbreak".
The Sun says he has shielded his £80m fortune with a canny pre-nuptial.