Zardari Pakistan Peoples Party rally is 'family affair'
By Rajini Vaidyanathan
BBC News, Birmingham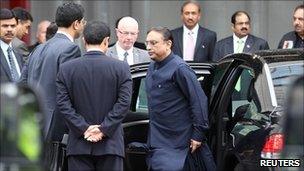 It was a welcome of two halves.
Outside Birmingham's ICC a crowd of protesters gathered holding banners.
Some chanted "Save Pakistan", and "Oust Zardari".
Inside the venue, there was a different chorus. "Victory to Zardari" sang the crowd as they waved Pakistani flags.
Of the around 1,700 people packed into the 2,500 capacity venue, the majority were men - only 50 women attended.
The audience had travelled from afar.
Not just across Birmingham, but from Nottingham, Stoke, London and Manchester to catch a glimpse of a president.
And almost every age group was represented - from teenagers to pensioners.
There had been widespread speculation that this event was to be used to launch the political career of Bilawal, the son of Pakistani President Asif Ali Zardari and his late wife Benazir Bhutto.
In a statement Bilawal said he would not be coming to Birmingham, and instead opened a donation centre for victims of the floods in London.
But it was hard to ignore the backdrop behind the stage. On it were large posters which read "Welcome Bilawal Bhutto Zardari", bearing the 21-year-old's picture.
Quite a welcome for a man who said he was never planning to appear here.
Other signs welcoming President Asif Ali Zardari proved to be more fruitful. He entered the room to a chorus of chants and a standing ovation from the crowd.
This rally had the undertones of a family occasion - "you are all my family", President Zardari told the crowd, before talking about his own.
Many references were made to his late wife - Benazir Bhutto - who was assassinated in 2007.
The whole room joined in collective prayer in her memory.
The crowd regularly chanted "Jiya Jiya Bhutto" - "She is living".
Proof, if there needed to be any, that the name has a lasting legacy in Pakistani politics.
This was a trip many said President Zardari should never have made because of the devastating floods back in Pakistan.
He did not open his address on the subject, but did touch on it - highlighting funds his son and daughter have set up to help the victims. Many in the room felt he did not go far enough.
Khadeer Arif was one of a number of people who walked out in protest.
He comes from a family of Pakistan Peoples Party activists. But this is one family tradition which won't be continuing.
For Khadeer there was simply no need for the president to visit Britain while there are people dying back home.
"You wouldn't see Barack Obama leaving America, you wouldn't see at the time of 7/7 Tony Blair wandering around Europe," he said.
"The reality is simple; he was here for his family needs, not for the people of Pakistan."
Later, an elderly man who apparently threw a shoe towards the stage was removed from the room by police.
At this point others streamed out of the room - for some the boycott of the speech boiled down to old-school politics, and accusations that Mr Zardari has been tainted by allegations of corruption.
One man shouted "Mr Ten Per Cent" as he walked out of the hall.
Others who left at this point did so, not out of protest but for practical reasons.
"My parking's run out because they've gone on too long," said another man.
Mr Zardari took to the stage far later than billed and for some the day was just too tiring.
But even with the protests the meeting continued - most of the audience of British Pakistanis seemed pleased to be in the company of the president.
"The vast majority of the people were satisfied," says Shaquil Usman.
"There was a lot of controversy about his visit, because of the floods, but by him coming here today I think all these people will contribute towards the floods.
"I think is the ultimate aim of everybody is to try and get as much money raised for the floods as possible. "
Related Internet Links
The BBC is not responsible for the content of external sites.