Sunday papers shocked at aid worker murder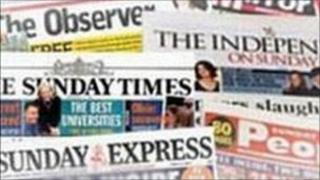 The murder of British aid worker Dr Karen Woo, along with nine others in Afghanistan, dominates the front pages of many of the Sunday newspapers.
According to The Sunday Telegraph and the Mirror, the charity worker was due to be married within the next few weeks.
Writing in the Independent on Sunday, her friend Kim Sengupta said the doctor was a modest and compassionate woman.
He said the aid workers' deaths were "a bleak reminder of the lethal savagery spreading across the country".
Savings
Elsewhere, highlighting wasteful spending in the public sector takes up valuable column inches.
The Sunday Express reports that UK aid meant for poor children in Malawi was used to help pay for a presidential luxury jet, angering the UK government.
Meanwhile, The Mail on Sunday says Chancellor George Osborne saved £115.70 when he ordered six portions of fish and chips from the Treasury restaurant.
He and his guests saved the cash by picking up the food and eating it in the canteen two flights of stairs down rather than having it delivered up to his office.
The Sunday Telegraph reports that the Duchess of York also has money worries and is now facing bankruptcy.
The paper says it understands her debts have risen to nearly £5m - more than twice as large as previously thought.
Role models
The Sunday Times reports that the actor Clint Eastwood has asked the government to make his day and save the UK Film Council from the axe.
It says the Hollywood star is dismayed at plans to abolish the quango and so may no longer make any films in the UK.
In the Observer, leading GP Professor Steve Field warns society's reckless attitude to food, alcohol and cigarettes is causing high levels of disease and early death.
He calls on people to take on more responsibility and act like better role models to their children.
And the News of the World has the romantic tale of Dan Quinton whose online flirtations with a stranger have led to marriage.
He accidentally sent amorous e-mails to an Australian who decided to wed him.