Benzocaine targeted in drugs war on cutting agents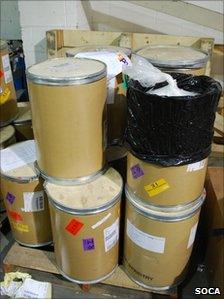 Police say they are making a major dent in drug dealers' profits by seizing large quantities of chemicals used to dilute cocaine and other class A drugs.
Pharmaceutical drugs benzocaine and lidocaine cost around £10 a kilo to buy but can be sold for up to £50,000 a kilo if mixed with some cocaine.
But the Serious Organised Crime Agency said these mixtures can be dangerous.
It said in some cases buyers are sold cocaine that is 100% benzocaine, so maximising profits for the dealers.
The national police unit has stepped up seizures of these cutting agents at ports and airports.
Although benzocaine and lidocaine are legal substances, it is illegal to supply these chemicals to the underground drugs trade.
The drugs are used legitimately in the UK as a dental anaesthetic and as an ingredient in first aid ointments, throat sprays and sunburn remedies.
But drug dealers like to use it in powder form to dilute pure class A and class B drugs such as naphyrone and mephedrone because of the numbing sensation it offers when placed on the skin.
A few months ago, officers from the Serious Organised Crime Agency (Soca) seized 83 barrels (two tonnes) of benzocaine in one week, the Press Association news agency reported.
Investigators had been monitoring suspicious operations for six months previously.
The drugs were delivered to four people at Felixstowe sea port and Stansted airport.
That haul represented one-fifth of the UK's annual legitimate use of the drug and as the importers were unable to explain why they had wanted such a large quantity, the drugs were incinerated.
An officer from Soca told PA that these raids were "targeted preventative measures" which would "seriously damage" the criminal market.
He said: "It is keeping money out of the trade because they cannot maximise their profits, money that is often reinvested in criminal activity.
"Drug dealers are greedy people who want to make as much profit as possible, but people will be less inclined to buy drugs as the quality gets poorer and poorer."
Soca officers said the seizures had an immediate impact with no benzocaine imported in the five weeks after the raid. They said this forced up prices and affected dealers' profits.
They also took down websites being used to sell the drugs and visitors were directed to Soca pages with a warning that they were potentially committing a crime.
The Soca officer said: "The chemical properties of these cutting agents have enabled traffickers to target younger people in the UK, from mid-teens to early twenties, with more 'affordable' cocaine that masks its lower purity."
But he warned customers were sometimes misled about what exactly they were buying.
Related Internet Links
The BBC is not responsible for the content of external sites.