Newspaper review: Papers debate free milk confusion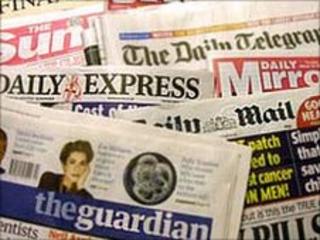 The papers all have some fun with their approach to David Cameron's decision to overturn his health minister's proposals to stop free milk for under-fives.
The Independent says Mr Cameron did not want to acquire a nickname similar to "Maggie Thatcher - milk snatcher".
But the Daily Mail urged him to "show some bottle" on cuts and said the scheme - which would have saved £60m - "was an honest and reasoned proposal".
Meanwhile, The Sun headlines with the pun: "PM's U-Churn on Free Milk".
'Farce'
A picture of minister David Willetts is under the Daily Mirror's headline "Full Fathead".
He was told the plan to abolish free milk was being dumped just minutes after he defended the proposal on television.
The Daily Express says that the plans "descended into an embarrassing farce" and Mr Cameron had to make a decision.
The paper advises Tory politicians to "steer clear of the lactic issue because it always turns sour for them".
The Guardian focuses on the religious proclivities of the organisation murdered aid worker Dr Karen Woo volunteered for while in Afghanistan.
It wonders if the Taliban saw the International Assistance Mission as a "soft target".
Superbugs
The Daily Telegraph has an image of Dr Woo in happier times.
In one of the pictures she is wearing a red jumpsuit and working as a stunt woman with a flying circus. It was taken before she retrained and became a doctor.
The Sun publishes a World Health Organisation report suggesting rates of breast cancer in the UK are more than four times higher than in East Africa.
The Daily Mail says the UK is better at diagnosing cancers but warns East African women breastfeed more - and that lowers the rate.
Meanwhile the Independent reports on a "spray-on glass" being tested on toys at Alder Hey Children's Hospital in Liverpool,
The invisible coating will hopefully stop superbugs and infections being passed on.