Tributes to soldier Sapper Darren Foster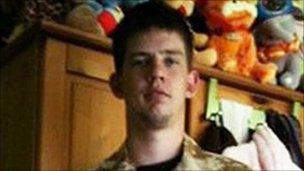 Tributes have been paid to a "kind" and "well respected" British soldier who died of gunshot wounds in Afghanistan.
Sapper Darren Foster, 20, from 21 Engineer Regiment, died in hospital on Friday after being shot in the Sangin district of Helmand province.
His family, from Carlisle, Cumbria, said he would be "sorely missed" for his "crazy, flamboyant lifestyle".
A soldier from the same regiment was also shot dead on Friday in the Nad-e Ali district. His family were informed.
A third soldier, from 1st Battalion The Mercian Regiment, died on Thursday at a hospital in Birmingham after a helicopter crash in the Nahr-e Saraj district of Helmand.
A total of 331 British military personnel are now known to have been killed in the Afghan campaign since 2001.
In a joint statement, Sapper Foster's family said: "He was a loving son, grandson and brother... his only aim was to serve in the Army, for which he made us all proud."
He soldier joined Ripon-based 21 Engineer Regiment in May, having previously enlisted into the the Royal Engineers in September 2008.
He went to Afghanistan on 20 July to support 40 Commando Royal Marines in construction and combat engineering tasks, the Ministry of Defence said.
Lt Col Bobby Walton-Knight, of 21 Engineer Regiment Group, said of Sapper Foster: "From the moment he arrived in the regiment he was pushing to get out to Afghanistan as soon as he could.
"He arrived full of energy, itching to join his fellow Sappers and was quickly in the thick of it in Sangin.
"He was with the regiment for just three months and in Afghanistan for just three weeks, but in that time he made his mark.
"His motivation, professionalism and his pride marked him out."
Capt Greg Harris, Battle Group Engineer, Combined Forces Sangin, said Sapper Foster impressed him with his "enthusiastic manner".
He said: "He had joined his colleagues in 9 Troop at Forward Operating Base Sangin Fulod where he was part of a small team striving to enlarge the base and improve living conditions for Delta Company, 40 Commando Royal Marines.
"He was hard working and instrumental in achieving this task and his contribution to the team effort ensured that he was well respected.
"My thoughts are with his parents, girlfriend and all those he left behind."
Cpl John Rutter, of 73 Armoured Engineer Squadron, said he was nicknamed Cookie after revealing a passion for cooking and being appointed head engineer chef.
He said: "As an intelligent and skilled Sapper he fitted in with the section from the start and was liked by all."
Sapper Richard Cummings, 73 Armoured Engineer Squadron, said: "He was very kind and told me what I should expect when I first arrived in the regiment.
"He fancied himself as a bit of a Masterchef, and despite attending every fixed meal would still be cooking up Supernoodles like he was Gordon Ramsay in the evenings; he could eat to his heart's content and still stay in shape.
"Sapper Foster was a genuine, down-to-earth guy and will be missed by all who knew him."
Defence Secretary Liam Fox said his thoughts and deepest condolences were with his family and friends.