Acpo's Mick Giannasi fears speed camera cut risks lives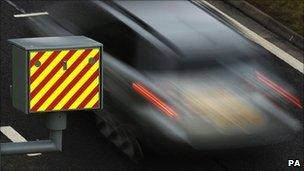 Lives will be put at risk as a result of government cuts to speed cameras, Britain's top traffic police officer has warned.
Chief Con Mick Giannasi, of Gwent Police, said casualties had almost halved over an eight year period due to the use of speed cameras.
It comes after the government cut £38m from this year's road safety budget.
The Department for Transport has said road safety remains a priority for councils despite speed camera cuts.
The government has also ended central funding for speed cameras - a central plank of its promise to "end the war on the motorist".
About 6,000 speed cameras have appeared on Britain's roads since they were introduced in 1992, generating some £100m in fines each year.
Last month it emerged that Oxfordshire County Council will switch off its 72 fixed cameras. The decision was part of moves to save money.
Other local authorities are also considering similar action.
Mr Giannasi, who speaks on road policing for the Association of Chief Police Officers (Acpo), said: "The evidence is that road safety camera partnerships have achieved significant reductions in road casualties over the last decade.
"There are almost half the number of casualties now that there were eight years ago, and actually there is very clear evidence to show that the public accepts them," he told BBC Radio 4's Today programme.
"We recognise that we have to save money, we recognise that road safety has to play its part in this, but these cuts in particular are a threat to the future sustainability of the system."
He said he was working with the government to "persuade them that action needs to be taken to protect the system for the future of our road safety".
According to a report in the Times, he has written to ministers warning of a rise in fatal road accidents as councils switch off cameras because they can no longer afford to operate them.
It comes as another police chief openly expressed concerns about road safety.
She said: "People think, 'we should be able to get away with it'. They wouldn't tolerate law-breaking by anybody else but they do it themselves without thinking.
"It all seems ok until something tragic happens, like a child dies because of a road traffic accident."
Fears raised by police chiefs were echoed by Julie Townsend, deputy chief executive of road safety charity Brake, who told the programme a "large scale" removal of speed cameras would be "a devastating blow to road safety".
"We know that cameras are very effective in cutting speeding which is vital for protecting all road users," she said.
The Department for Transport said it did not have figures for road casualties related to speed camera use.
But Richard Allsop, professor of transport studies at University College London, said there had been "substantial reductions" in casualties in the first five years of the roll-out of cameras.
"There is a bit of statistical debate about exactly how many, but the picture of a substantial reduction is quite undisputed and it's consistent with measured reductions in speed at camera sites."
A Department for Transport spokeswoman added that road safety remained a priority.
She said: "The coalition government is committed to further improving road safety but it is right that local councils decide how best to tackle specific problems in their areas.
"We ended central government funding for new fixed speed cameras because we don't believe we should dictate to councils that they use them as the default solution in reducing accidents."
Related Internet Links
The BBC is not responsible for the content of external sites.