UK donations to Pakistan flood appeal reach £6m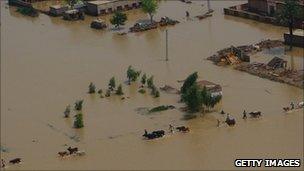 The British public has donated £6m so far to help the victims of the Pakistan floods, charities have said.
The Disasters Emergency Committee (DEC) said about 545,000 survivors had so far been provided with emergency care, clean water, food or shelter as a result of British aid.
At least 1,600 people have died in Pakistan's worst floods for 80 years.
The UN said the disaster had affected 13.8 million people and eclipsed the scale of the 2004 Indian Ocean tsunami.
The entire Swat valley, in north-west Pakistan, was cut off at the weekend, with even helicopters unable to reach it because of the poor weather.
The imminent threat of flooding has now shifted to the southern province of Sindh where waters have exceeded the danger level at the Sukkur Barrage, a key flood barrier.
The DEC launched its appeal for Pakistan last Thursday following a pledge of £10m of aid for the country by the British government.
Chief executive Brendan Gormley said: "With further monsoon rains expected over the next few days, it is clear that the situation for millions of people in Pakistan is going to get worse before it gets better.
"We are very concerned about reports that the Swat valley has been cut off by mudslides which will hamper the relief effort.
"We urgently need the public's help to save more lives."
The Charities Commission has issued a warning to anyone wishing to donate to be wary of criminals and online scams.
It said that following the Haiti earthquake in January it was made aware of fictitious websites asking for money, email appeals that falsely use the name of genuine charities, and appeals from fake charities.
The Commission added that anything suspicious should be reported to the police.
UN spokesman Maurizio Giuliano said on Monday that the devastation caused by the floods was worse than the impact of the Indian Ocean tsunami, but despite this vast scale, aid had been difficult to come by.
"Here in Pakistan, relatively few people have died - one and a half thousand people, approximately, have perished, which is very sad - but in terms of drawing international attention to the disaster, some people are using that as a criteria to estimate the needs," he said.
"Some people, the general public in particular, will think, well, this was one and a half thousand people dead, but the tsunami was tens of thousands and the Haiti earthquake was over 200,000, therefore the needs cannot be so bad."
The DEC is an umbrella organisation of 13 UK humanitarian aid agencies - ActionAid, Age UK, British Red Cross, Care International, Cafod, Christian Aid, Concern, Islamic Relief, Merlin, Oxfam, Save the Children, Tearfund and World Vision.
Related Internet Links
The BBC is not responsible for the content of external sites.