Newspaper review: 'Dirty pebbles' evidence examined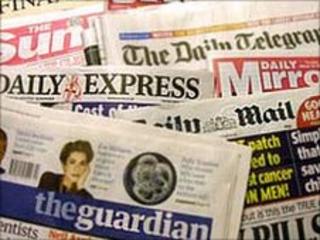 The latest witnesses to appear at the Charles Taylor war crimes tribunal at The Hague are subject to much analysis.
Last week, Naomi Campbell told the court how she was given "dirty pebbles" in a pouch, which the prosecution allege were blood diamonds.
But the Daily Mail says "grave doubts" have been cast on her evidence by the actress Mia Farrow, and her former agent Carole White.
The Sun says she could now face contempt of court charges if she is found to have lied.
House prices
Many of the papers are worried about the fall in house prices reported during July by the Royal Institution of Chartered Surveyors - the first such decline in the past year.
The Guardian claims the drop is the result of the government's austerity measures, which it says are discouraging people from moving home.
The Independent thinks further falls are likely later in 2010 but it points to a mixed picture across the UK with prices rising in London and Scotland but falling in the Midlands and Wales.
Petrol prices
Both the Sun and the Daily Express warn that higher petrol prices are on the way.
The Sun says the the cost of fuel is predicted to rise to £6 per gallon - or £1.30 a litre - in the New Year.
The Daily Express claims the pain will be felt earlier than that, with prices likely to reach £1.20 a litre by the end of August.
It blames a rise in the wholesale price of oil and the changing exchange rate between the pound and the dollar.
Flower dangers
The Daily Telegraph reports on the woman told to remove hanging baskets she had put up in a market square in case shoppers bumped their heads.
Linda Martin, 68, from Wilton in Wiltshire said she wanted to brighten up the area.
But was she was told the baskets breached health and safety rules.
The paper says she was previously reprimanded for putting flower pots on the pavement because pedestrians could trip over them.