Economic woes dominate newspapers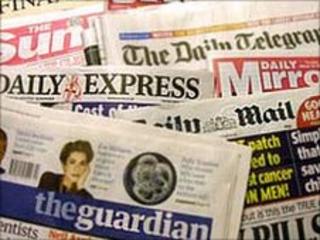 The impact of the recession and the squeeze on government finances is a common theme on many front pages.
According to the Times, an analysis of the best performing NHS trusts suggests a quarter could miss key targets for cancer care or dealing with superbugs because of mounting financial pressures.
"Over 50 and on the scrapheap" - is the headline in the Daily Mail.
It reports that the recession has created a generation of people over 50 who are condemned to long-term unemployment.
Douple-dip recession?
The Financial Times and the Independent focus on US economic worries.
A Federal Reserve downgrade of its economic outlook is said to have added to fears about a double-dip recession in the US.
With the headline, "Double Dipsticks," the Daily Mirror accuses David Cameron and George Osborne of leading the UK to the brink of the same fate by bragging about savage spending cuts.
But an editorial in the Sun looks on the bright side, arguing that rising exports show that fears of a return to recession in Britain are exaggerated.
Cultural don'ts
Meanwhile, the Guardian and the Daily Express say the tough economic conditions have helped force down the price of holidays.
And tourism chiefs in Britain have drawn up a list of cultural "dos and don'ts" on how to avoid offending foreign visitors to these shores.
The Daily Telegraph publishes some of the golden rules.
For example, a Japanese person may think it rude if you talk to them with your hands in your pockets.
Green tax
The Guardian's main story raises concerns that al-Qaeda is attempting to make a comeback in Iraq.
Two key US-backed militia leaders tell the paper the group is enticing former Sunni allies to rejoin.
The Daily Telegraph reports that UK businesses will be liable for significant fines and charges under a new government "green tax" scheme.
Companies that fail to register their energy use by next month will be hit with fines of up to £45,000, it says.