UK cloned cow probe finds third case of meat being sold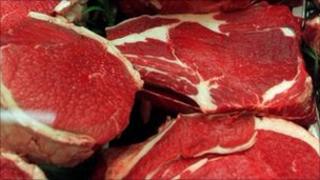 A third case of meat linked to a cloned cow being sold in the UK has emerged, the Food Standards Agency says.
The watchdog's statement follows two cases involving Highlands farm bulls grown from embryos of a cow cloned in the US.
The latest case involves meat from a male calf slaughtered on 16 June that was sent to a London butcher's shop.
The FSA said veal had been supplied without authorisation but there was no evidence of a safety risk.
It said the calf was the offspring of one of eight animals born in the UK from embryos produced by the US cloned cow.
The FSA said five of the eight animals - four male calves and four female - had produced offspring, which were all too young to have been milked or used for breeding. But the male calf became the third to enter the food chain.
Meat from another two of the eight - bulls bought by a farm near Nairn - also entered the food chain.
"While there is no evidence that consuming products from healthy clones, or their offspring, poses a food safety risk, meat and products from clones and their offspring are considered novel foods and would therefore need to be authorised before being placed on the market," the FSA said.
Inquiries complete
The agency's inquiries began following claims that a British farmer had used milk in his daily production without labelling it as from the offspring of a cloned cow.
In an update to its investigation, the FSA said it had "received assurances" from authorities, the dairy industry and the farmers involved that no milk from any of the eight offspring had entered the food chain.
The FSA added that the meat from a bull, known as Dundee Paratrooper, that was born from an embryo of the cloned cow and slaughtered in July 2009, was sold at four butchers' shops in Scotland and a single butcher's shop in north-east England.
A second bull was slaughtered on 27 July 2010 and its meat was stopped from entering the food chain.
Meat from an animal called Parable, born in May 2007 and slaughtered on 5 May 2010, was supplied for sale in Belgium. The FSA said the authorities in Belgium had been informed.
The FSA said that unless new information came to light, its inquiries into meat or milk in the food chain were complete.
Breaches of the Novel Food Regulations can attract a fine of up to £5,000.
The agency said its usual practice was to reveal the identities of those subject to its investigations.
However, it said some of the farmers, abattoirs or shops involved in the latest inquiry "were not aware, and could not reasonably be expected to have been aware, that the animals in question were the offspring of clones" and it would give them the opportunity to make representations before deciding whether to publish details.