Two more RAF Tornado jets to be sent to Afghanistan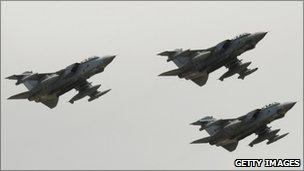 The UK is to send two extra RAF Tornado jets to support soldiers on the ground in Afghanistan, Defence Secretary Liam Fox has said while visiting troops.
Dr Fox insisted real progress was being made in the country, with Afghans taking the lead in more operations.
The commander of US and Nato forces, Gen David Petraeus, had asked for additional air support to provide greater protection to ground forces.
The two Tornado GR4 aircraft will join the eight already in Afghanistan.
They will be sent from RAF Lossiemouth in Moray and arrive at Kandahar airfield on Thursday.
Dr Fox said: "The deployment of these two extra aircraft is another illustration of the UK government's commitment to achieving success in operations in Afghanistan.
"Tornado GR4s provide essential air cover to our service personnel on the ground and are leading the fight against deadly IEDs [improvised explosive devices] from the air.
"The intelligence these assets provide to coalition forces will enable commanders to have the eyes in the sky that they need to protect their troops and help increase security for local people."
The BBC's Jonathan Beale has been travelling with the defence secretary, who flew into Afghanistan with reporting restrictions placed on his visit for security reasons.
Our correspondent says that, while Prime Minister David Cameron has set an exit date for all UK combat troops of 2015, Dr Fox is deepening the UK's commitment to the war in Afghanistan.
But the Tornados could soon be facing the axe as the Ministry of Defence contemplates savings of up to 20%.
No decisions have been taken on which defence capabilities will be cut but Dr Fox is warning there will be painful choices ahead.
"People have to understand that whatever decisions we choose to take, we take because when we get to 2020 we want to see us having investment in the capabilities for the future," he said.
"That's going to require us to make sacrifices in the intervening years. I'd rather not have to do that but that's the lot that's been left to me."
As to the suggestion that some British troops could start leaving as early as next year, Dr Fox urged caution - saying that scenario still depended on conditions on the ground.
Related Internet Links
The BBC is not responsible for the content of external sites.