Changing face of student digs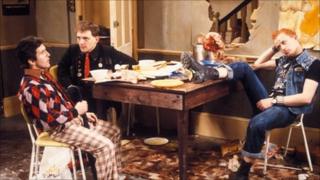 With an increasing number of luxury student studios and shared apartments on the market, is this the type of digs students can expect from now on?
Breathtaking views of one of Europe's most vibrant cities. Flat-screen TV, internet access in a flash and a room key that doubles as a cash card.
It sounds more like a swanky hotel than student accommodation, which usually conjures up the image of a rundown house with grotty carpets, mouldy walls, a dingy bathroom and clapped-out kitchen.
But a new, stylish building - due to house 1,204 students slap bang in the middle of one of the trendiest parts of London from September - is the latest in a line of up-market university living, aimed at cash-rich students.
The purpose-built Spitalfields complex claims a hassle-free, hi-tech living experience in the world's tallest student accommodation building. All this and only a short walking distance from a plethora of universities, bars, restaurants.
But with rent for a studio costing £330 a week, and a twin apartment reaching an annual cost of over £10,000, soaring bills come with a price tag more suited to a career in the city than academia.
So who lives in these plush new pads?
One of Nido's new Spitalfields' residents is Ye Vonn Chew, 20, from Malaysia, who is in her third year of an economics and finance undergraduate degree at the University of London.
She says her parents are willing to foot the costly monthly bill because "they know she's comfortable with the environment... that she is happy".
After spending her first year in halls of residence, and second in a student block in Mile End, she says Nido feels "much more like home".
"I decided to live here for three main reasons, I have my own space, the building is good, and so is its location. Also the security is 24/7.
"Three of my friends are moving in. There is also an intranet which makes it easy to meet people, for example to play badminton. Everyone lives all over the place in London, so it is nice to have a community."
Fellow resident American Andrew Bowen, 25, who is studying for a PHD in International Relations at the London School of Economics, says quality played a large role in his decision.
"In the US, they really invest in student accommodation, which I didn't find here. The customer service was really bad in halls, it would take days to fix a shower door.
"Nido is more similar to the US. The student is attended to, there is a sense of community, and it's sociable, pastoral, a more holistic experience."
But with tuition fees, which some students already find hard to pay, and new figures suggesting graduates are now facing about £25,000 of debts by they time they enter the job market, not everyone can afford the luxury.
So how common are these posh student flats?
The Nido group also has another complex in London's Kings Cross, and a third on the way in Notting Hill. It also has one in Barcelona.
And Unite, the UK's largest student housing firm, which provides a range of accommodation, has nearly 39,000 bed spaces in 24 cities across the UK - with 14,442 having opened in the last five years. The majority are not high-spec pads, but it says there is an increasing demand for such places, particularly in London.
Nathan Goddard, business development director at Unite, says companies have been taking advantage of a gap in the market "at a time when most key cities have seen a rapid rise in student numbers, but university-owned student accommodation has remained pretty static".
But Mr Goddard says the capital's most expensive student accommodation - especially studio flats - predominantly attract overseas and postgraduate students.
"For international students, who pay higher costs in general because of the fees they pay to study in the UK, the cost of slightly better accommodation is marginal.
"The all inclusive prices and the setup - where you can purchase bedding and kitchen packs - also lends itself to students who are only here for a year - they can literally just turn up with their clothes."
It is a view backed up by Dean Skivington, 30, who is in his third year of an MA in international planning and sustainable development at Westminster University.
He lives in halls and says those who live in plush pads are "missing out on what student life is about".
"The rooms only have the basics - a bed, desk, internet ports, mirror, noticeboard, cupboards and wardrobe space; some have ensuites - but that encourages people to get out of their room and mingle.
"Halls is where you meet your friends, it's about mixing with different people, deciding who you might want to live with the year after.
"It's ridiculous people are paying over £1,000 a month as a student, when I was working and living in Clapham I paid £800."
So is the trend in upmarket student living set to continue?
Martin Hadland, a partner at property consultants King Sturge, says London "is a bit of an exceptional case" in its success in attracting foreign students - who also spend an estimated £276m a year in local communities, according to Santander bank - and the average student has a cap on what they will pay.
He says developers are increasingly focusing on working closely with universities to provide more mid and high range accommodation.
Ben Whittaker, vice president for welfare at the National Union of Students, says affordability is a "key issue" for students, who are already paying 22% more for their accommodation than they were in 2006-07.
"Most students are happy with basic facilities in shared accommodation that is simply of an acceptable standard, along with features such as broadband internet, which has become crucial both academically and socially.
"It would be concerning if students were being forced into studio flats and penthouse apartments, which in reality only a tiny minority of students have the money to afford."