Papers' concern over UK economy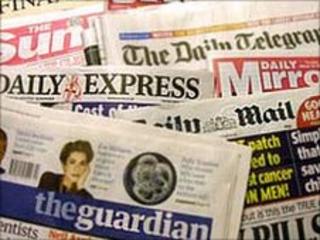 Many papers express serious concern about the UK economy after a downbeat outlook from the Bank of England.
In the Independent, under the headline, "the Gathering Storm", there is a photograph of dark clouds hovering over a prosperous-looking street.
The paper's assessment is stark: the recession is far from over and "double dip may not do it justice".
The Daily Mail says there is a "painful squeeze" for millions of families in the cost of living and it is the harshest since the 1970s.
The Guardian believes fears the UK economy could slip into a "protracted depression" have "intensified", because the markets took fright at the warning of a "choppy recovery" from the governor of the Bank of England.
But the Financial Times says ministers would have been "delighted" public spending cut plans were not criticised.
Meanwhile, the Daily Telegraph says the public sector is to seek the help and guidance of retailer John Lewis.
It will advise children's and mental health services on becoming a mutual.
Weighty issues
The Times says the PM is backing plans by some councils to ban shops and pubs from selling cheap alcohol.
The paper quotes David Cameron as saying he is "very sympathetic" to the idea but he does not want to bring in a national price limit.
The Daily Mail asks if Deputy Prime Minister Nick Clegg has gone on a paella binge while on holiday in Spain.
It carries a photo of him alongside a picture taken in April and remarks his waistline looks "decidedly bulkier".
The Daily Mirror says England manager Fabio Capello was "rescued" by captain Steven Gerrard as the team delivered an another "abject" performance".
The Daily Express says all England did against Hungary was "inch their first steps along" the road to recovery.
It also highlights Capello's comments that David Beckham was "a little too old" to play for the squad again.
The Sun says the match should be remembered for the curtain Capello "so tactlessly drew over" Beckham's career.