DEC Pakistan floods appeal: UK donations reach £10.5m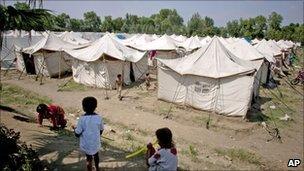 The British public has so far donated £10.5m to help the victims of the Pakistan floods, charities say.
The Disasters Emergency Committee (DEC) said more than 500,000 survivors had been provided with emergency care, clean water, food or shelter.
At least 1,600 people have died and many more are missing in Pakistan's worst floods for 80 years.
DEC agencies are warning that six million children could be at risk of malnutrition, diarrhoea and pneumonia.
Flood waters are rushing through the densely populated urban areas of Sindh province and southern Punjab.
Mohammed Qazilbash, Save the Children's spokesperson in Islamabad said: "Outbreaks of cholera and malaria are a big concern. In Southern Punjab and Sindh there are vast numbers of people living right along the water, some in makeshift houses with very poor hygiene and sanitation at the best of times.
"Children are drinking, washing in and going to the toilet in the same river water. If this sanitation crisis is not tackled now, in six months time, millions and millions of children will be suffering potentially deadly diarrhoea and other diseases."
There are also reports of measles outbreaks among children in camps set up for the estimated 14 million people displaced.
Meanwhile, Pakistan's President Asif Ali Zardari has visited a relief camp for flood victims in Sindh, in his first visit to areas hit by the deluge.
The trip follows criticism of his recent tour abroad and of the perceived slow government response to the country's worst humanitarian crisis.
It comes as one British aid worker in Pakistan warns that further heavy rain forecast for Thursday and Friday could hamper efforts.
Kate Akhtar, 32, Care International's UK Emergency Response manager who arrived in the country on 10 August, is helping to co-ordinate the charity's work from Islamabad.
She said: "The rains are expected to last until mid September with further heavy rains expected over the next couple of days, so the situation here in Pakistan continues to evolve."
Care has more than 80 staff from Pakistan, the UK, Germany and Afghanistan working round the clock in the Nowshera and Charsadda areas, and in the Swat Valley.
"The needs of the affected remain health, water and sanitation and shelter," said Ms Akhtar.
Supplies being distributed by Care include tents, shawls, mosquito nets, water purification tabs, hygiene kits and kitchen sets.
"Funds received in response to the DEC appeal will support purchases of similar items in order to scale up our response and to focus on the longer term recovery of affected communities through supporting livelihood activities in order for people to return to normal life," said Ms Akhtar.
"We are expecting the arrival of 500,000 water purification sachets today which will be delivered directly to the affected areas so that people have access to safe water, one of the key needs in the early phases of such a response."
But logistical difficulties and dangers do remain.
"A number of areas are still inaccessible so delivering aid to these places is extremely challenging," said Ms Akhtar, who lives in south London.
"In some places where bridges are destroyed there are small boats ferrying people across the rivers. As you can imagine the queues for this service can be long - up to eight hours - and the journey remains dangerous due to the fast flowing water and strong torrents.
"There are also cases where such an organised system is not in place and affected people are using self-made rafts and pulling themselves across the rivers in order to access help and support for their communities."
Related Internet Links
The BBC is not responsible for the content of external sites.