Papers fume over spending insight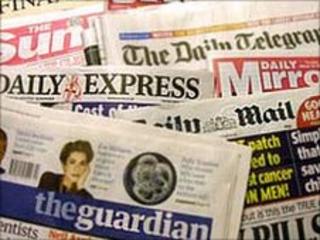 The Daily Mail and Daily Express are very exercised about some of the spending by the Department for Local Government and Communities last year.
It was revealed on Thursday by the secretary of state, Eric Pickles.
"Luxury hotels, race days and massages - the pampered life of a Labour mandarin," seethes the Daily Mail.
While the Daily Express finds it sickening - a missive from a spendthrift age now consigned to history.
Education gloom
The Daily Telegraph has two gloomy reports about higher education.
One, also in the Daily Mail says university vice-chancellors have been warned funding may be reduced by 35% over the next five years - the biggest cut in resources since the 1930s.
A year ago hundreds of thousands of students failed to receive their loans in time for the start of term.
The Daily Telegraph reports the Student Loans Company, which awards funds, is warning of more delays this year.
Schoolgirl prank
The Daily Mirror is one of several papers to highlight the story of how a schoolgirl's prank sparked international alarm on the internet.
Ten-year-old Azura Beebeejaun, from Worcester, decided to "play dead" while playing in the street with friends.
But this image of her lying down was picked up by a passing Google Street View camera and posted online.
The Daily Telegraph says people contacted Google to report what they feared was evidence of a crime.
'Razor sharp brain'
The appointment of the entrepreneur Sir Philip Green to lead the government's review of public spending provokes comment in many papers.
Ian King in the Times calls it an "exciting and imaginative" choice.
The Sun says he has a razor-sharp business brain. He tells the paper he's relishing the challenge of writing his report in just six weeks.
Sir Philip tells the Daily Express he will be very, very disappointed if he cannot make some savings.