Two UK soldiers in Afghanistan killed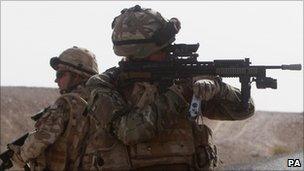 Two soldiers serving in Afghanistan's Helmand province have died after separate incidents, the Ministry of Defence has said.
The first soldier, serving with The Mercian Regiment, was injured on Tuesday, flown to the UK for treatment and died on Thursday in Birmingham.
The other soldier, from 21 Engineer Regiment, was shot dead on Friday.
The number of British military personnel killed on operations in Afghanistan since 2001 stands at 330.
The next of kin of both soldiers have been informed.
The first soldier, serving with Gurkha Reinforcement Company 1st Battalion, The Mercian Regiment (Cheshire) was injured in a helicopter incident while in a patrol base in the Nahr-e Saraj district.
Major Ronnie Goodwin, Officer Commanding the Rear Operations Group, 1 Mercian, said: "He gave his life trying to improve the lives of people in Helmand by providing much needed reassurance and security.
"Our thoughts are with his family and close friends at this difficult time."
The second soldier was killed in the Sangin District.
Lieutenant Colonel David Southall, spokesman for Task Force Helmand, said: "He was shot by small arms fire whilst supporting the 40 Commando Royal Marines Battle Group.
"He died a sapper, doing his duty amongst his comrades as he sought to improve security for the people of Afghanistan. His courage and sacrifice will not be forgotten."
Meanwhile, a soldier who died in a UK hospital on Wednesday, a month after he was wounded by an explosion in Afghanistan, has been named by the MoD as Lt John Charles Sanderson.
Lt Sanderson, from the 1st Battalion The Mercian Regiment (Cheshire), was on patrol in the Nahr-e Saraj district of Helmand when he was wounded on 13 July.