Soldier who died a month after Afghan blast is named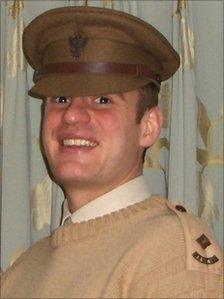 A soldier who died in a UK hospital a month after he was wounded in Afghanistan has been named by the MoD as Lt John Charles Sanderson.
Lt Sanderson of 1st Battalion The Mercian Regiment (Cheshire) was wounded by a blast on patrol in Nahr-e Saraj district, Helmand, on 13 July.
US-born Lt Sanderson was surrounded by his family when he died on Wednesday.
Earlier it was revealed that two other soldiers serving in Afghanistan had been killed in separate incidents.
The number of British military personnel killed on operations in Afghanistan since 2001 stands at 330.
Lt Sanderson had been attached to 1st Battalion The Royal Gurkha Rifles Battlegroup.
His mother, father and sister, who all live in Windlesham, Surrey, said they would miss Lt Sanderson immensely.
In a statement, issued by the Ministry of Defence, they said: "We have lost a brilliant and loving son and brother.
"John loved his army career and was enthusiastically committed to his men, and particularly, his and their role in Afghanistan.
"He believed he was contributing to a better life for the Afghan people. We will miss him tremendously but we will never forget him and what he gave to us."
The 29-year-old soldier was with 11 others who were occupying a compound as they tried to provide a secure area for an explosives-clearance operation to take place when the blast occurred at 0626 local time.
He was part of a team that had spent the previous four months providing security to the villages of Enezai and Char Coucha.
Lt Sanderson had studied at Bradfield College and Exeter University before joining the Royal Marines.
He trained on the Young Officers' Course at Lympstone and the Royal Military Academy at Sandhurst. He joined the Mercian Regiment in April last year.
He also spent some time working in the financial sector.
His commanding officer, Lt Col Andy Hadfield, said Lt Sanderson was a "big-hearted, strong and imaginative" soldier, who cared about his peers.
In a statement issued by the MoD, he said: "John was forthright, had an opinion on most things, and was always optimistic. He offered solutions to problems, and was full of ideas for future events, well thought-out and passionately delivered.
"He cared deeply for his men, and this was obvious from the outset; they responded brilliantly to his loyalty and leadership.
"He was extremely keen to deploy to Afghanistan to work to improve the lives of the ordinary Afghan people and he relished the challenge of service in this, so very dangerous, country."
Pte Blake Grimshaw described Lt Sanderson as a "true inspiration".
"From the day I met him he was always talking about rugby and getting massive in the gym," he said.
"He was undoubtedly a man for the lads. He would always crack jokes and boost the men's morale when we were down.
"He loved the fact that we were 1 Platoon, the best platoon in his eyes.
"All the lads loved him as the boss and he would do anything for anyone."
Related Internet Links
The BBC is not responsible for the content of external sites.